01.12.2017 | Research article | Ausgabe 1/2017 Open Access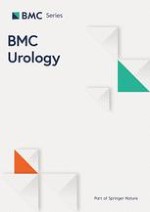 Preoperative lipiodol marking and its role on survival and complication rates of CT-guided cryoablation for small renal masses
Zeitschrift:
Autoren:

Fumiya Hongo, Yasuhiro Yamada, Takashi Ueda, Terukazu Nakmura, Yoshio Naya, Kazumi Kamoi, Koji Okihara, Yusuke Ichijo, Tsuneharu Miki, Kei Yamada, Osamu Ukimura
Abbreviations
eGFR
Estimated glomerular filtration rate
mRECIST
Modified Response Evaluation Criteria in Solid Tumors
MRI
Magnetic resonance imaging
PCA
Percutaneous cryoablation
TACE
Transcatheter arterial chemoembolization
Background
Renal function-preserving surgery has recently been recommended as a treatment for small renal cancer [
1
–
3
]. Percutaneous cryoablation therapy, which includes thermal ablation, for humans was initially reported by Uchida [
4
]. Laparoscopic cryoablation was subsequently conducted, and favorable outcomes were reported [
5
]. In Japan, cryoablation has been covered by national health insurance since 2011. We started to perform percutaneous cryoablation therapy for SRM in March 2013, and herein report our initial experience with this procedure.
Computed tomography (CT)- or magnetic resonance imaging (MRI)-guided puncture is conducted in cryoablation therapy. One of the advantages of CT-guided puncture is that it provides a broader space for puncture than MRI-guided puncture; however, it is more difficult to recognize tumor margins with CT-guided puncture than with MRI-guided puncture. Plain CT-guided puncture is performed in our hospital. In some patients with submerged tumors or tumor margins that are difficult to recognize, marking with lipiodol is conducted prior to cryoablation therapy.
Lipiodol is a lipid-soluble contrast material that is used for lymphangiography [
6
], hysterosalpingography [
7
], and transcatheter arterial chemoembolization (TACE) of hepatocellular carcinoma [
8
]. Since lipiodol remains in place for several days, it is easy to localize nodules using X-ray or CT fluoroscopy during surgery. In the present study, we examined the efficacy of cryoablation therapy for SRM and the usefulness of preoperative lipiodol marking.
Methods
Patients
In March 2013, our hospital started to perform cryoablation therapy on patients who were not indicated for radical surgery under general anesthesia because of active double cancer or complications or on those who did not wish to undergo surgery due to the presence of only one kidney or for some other reason. A preoperative staging imaging evaluation (chest to abdominal CT) was routinely performed on all patients. We retrospectively examined the efficacy of this procedure, adverse events, and post-treatment changes in renal function. Pre- and postoperative serum creatinine levels and adverse events in patients aged 75 years or older were compared with those in patients aged 74 years or younger. The present study was conducted in accordance with the Principles of Helsinki. This study protocol was approved by Institutional Review Board of Kyoto Prefectural University of Medicinw. The Ethics board approval number was ERB-C-54-1. All patients included in this study provided informed consent for cryosurgery, accompanying standard care and the use of their data in research.
Cryoablation methods
The treatment plan was made by performing CT before ablation. A CryoHit® device (Galil Medical USA; Hitachi Medical Corporation, Japan) was employed. IceSeed® or IceRod® needles were used in accordance with the tumor diameter. One to three needles were used for ablation as one IceSeed® for less than 10 mm, 2 IceSeeds® for 10–12 mm, 3 IceSeeds® or 2 IceRods® for 13–20 mm, 3 IceRods® for 21–30 mm, and 4 IceRods® for 31–40 mm. The cryoprobe was introduced under CT fluoroscopic guidance (Vigor Laudator, Toshiba Medical System, Tokyo, Japan) after local anesthesia had been administered by a subcutaneous injection of 1% lidocaine.
The tumor site was cooled with argon gas and thawed with helium gas. The cryoablation area was monitored at appropriate times during puncture or cryoablation. Two cycles of cryoablation were then performed, with the first cycle typically lasting 10–15 min and the second 10 min. Passive thaw was performed between the ablation cycles, and active thaw was performed after the second cycle.
When the tumor was adjacent to peripheral organs, such as the intestinal tract, hydrodissection with physiological saline was performed in order to avoid injury. Transdiaphragmatic puncture with an artificial pneumothorax was conducted for transthoracic puncture. When the tumor was adjacent to the renal pelvis, a ureteral catheter was inserted in some patients, and the tumor site was perfused with warm physiological saline to avoid injury to the renal pelvic mucosa.
As a rule, percutaneous tumor biopsy using 18-gauge Max-Core® (BARD, USA) was performed for a histopathological diagnosis before or at the time of cryoablation because the tumor histology and grade of preoperative biopsy predicted the oncological outcomes of renal cryoablation [
9
]. Local anesthesia and the prophylactic administration of antibiotics were permitted as combined and supportive therapies.
Transarterial lipiodol marking was performed 1–3 days before cryoablation therapy when difficulties were associated with identifying the tumor location on plain CT. Transfemoral visceral arteriography was conducted using a standard angiographic approach. Selective catheterization of the tumor-feeding arteries was performed under fluoroscopic guidance. After confirming the presence of the catheter tip in the branches of the renal arteries feeding the tumor, lipiodol (Laboratoire Guerbet, Roissy, France) was manually injected (range, 0.2–0.4 mL) under fluoroscopy to make a lipiodol spot.
Evaluation of efficacy
Responses to the treatment were evaluated by performing contrast-enhanced CT after 6 months. Efficacy was evaluated based on the tumor response rate, namely, a complete response (CR) or partial response (PR), using the modified Response Evaluation Criteria in Solid Tumors (mRECIST) criteria [
10
,
11
]. The mRECIST criteria incorporate amendments to the original RECIST criteria. Tumor responses were defined as: (i) CR: the disappearance of any intratumoral arterial enhancement in all target lesions; (ii) PR: at least a 30% decrease in the sum of diameters of viable (enhancement in the arterial phase) target lesions, taking the baseline sum of the diameters of target lesions as the reference; (iii) stable disease (SD): any cases that do not qualify for either PR or progressive disease (PD); (iv) PD: An increase of at least 20% in the sum of the diameters of viable (enhancing) target lesions, taking the smallest sum of the diameters of viable (enhancing) target lesions recorded since the treatment started as the reference. Efficacy was evaluated based on the tumor response rate, namely, CR or PR, using the mRECIST criteria.
Complications
The Clavien Classification of Surgical Complications was used for surgically related complications [
12
].
Statistical analysis
Relationships between clinicopathological characteristics and response rates were examined using the
χ
2 test. Changes in serum creatinine levels were examined using the
t
-test. Test results were considered significant at
P
 < 0.05. All analyses were performed using JMP 10.0.2 (SAS®).
Results
Discussion
There were several limitations in the present study. The total number of cases was too small to reach definite conclusions. In addition, complete preoperative histological information was unavailable, limiting the oncological outcomes. Furthermore, this was a retrospective study. Therefore, controlled randomized trials need to be designed that compare preoperative lipiodol marking followed by cryoablation and cryoablation without lipiodol marking.
Conclusions
The results of the present study suggest that cryoablation with preoperative lipiodol marking improves the safety and success rate of CT-guided cryoablation for SRM. This approach was even shown to be useful for patients with renal dysfunctions, who were likely contraindicated for the intraoperative use of a contrast agent to visualize renal tumors.
Acknowledgments
The authors thank Ms. Morioka Y and Ms. Nakamura S for data acquisition and Ms. Katsurai M for organizing the follow-up schedule after the treatment.
Availability of data and materials
The datasets generated during the current study are not publicly available in order to protect confidentially.
Authors' contributions
FH carried out cryosurgery on patients, collected and analyzed data, and wrote and drafted the manuscript, YY, TU, and YI carried out cryosurgery on patients, YN and KK participated in the acquisition of data, TN and KO participated in the design of the study and performed the statistical analysis, and TM, KY, and OU conceived the study, participated in its design and coordination, and helped to draft the manuscript. All authors read and approved the final manuscript.
Competing interests
The authors declare that they have no competing interests.
Consent for publication
Not applicable.
Ethics and consent to participate
This study protocol was approved by Institutional Review Board of Kyoto Prefectural University of Medicine. The Ethics board approval number is ERB-C-54-1. All patients included in this study provided informed consent for the use of their data in research.
Open Access
This article is distributed under the terms of the Creative Commons Attribution 4.0 International License (
http://​creativecommons.​org/​licenses/​by/​4.​0/​
), which permits unrestricted use, distribution, and reproduction in any medium, provided you give appropriate credit to the original author(s) and the source, provide a link to the Creative Commons license, and indicate if changes were made. The Creative Commons Public Domain Dedication waiver (
http://​creativecommons.​org/​publicdomain/​zero/​1.​0/​
) applies to the data made available in this article, unless otherwise stated.