24.02.2020 | Original Contributions | Ausgabe 6/2020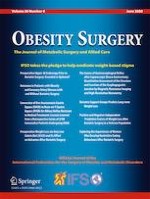 Preoperative Upper-GI Endoscopy Prior to Bariatric Surgery: Essential or Optional?
Zeitschrift:
Autoren:

Yusef Moulla, Orestis Lyros, Matthias Mehdorn, Undine Lange, Haitham Hamade, Rene Thieme, Albrecht Hoffmeister, Jürgen Feisthammel, Matthias Blüher, Boris Jansen-Winkeln, Ines Gockel, Arne Dietrich
Wichtige Hinweise
Publisher's Note
Springer Nature remains neutral with regard to jurisdictional claims in published maps and institutional affiliations.
Abstract
Introduction
The role of preoperative upper-gastrointestinal (GI) gastroscopy has been discussed with controversy in bariatric surgery. The aim of this study was to evaluate the incidence of upper-GI pathologies detected via endoscopy prior to bariatric surgery along with their clinical significance for patients' management.
Material and Methods
In our single center prospectively established database of obese patients, who underwent bariatric surgery from January 2011 to December 2017, we retrospectively analyzed the perioperative endoscopic findings along with their influence on patients' management.
Results
In total, 636 obese patients with median BMI (body mass index) of 49 kg/m
2
[range 31–92] received an upper-GI endoscopy prior to bariatric surgery. Among the surgical procedures, laparoscopic Roux-Y-gastric bypass (72.6%;
n
 = 462) was the most frequent operation. Endoscopically detected pathological conditions were peptic ulcer 3.5% (22/636), Helicobacter pylori (Hp) gastritis 22.4% (143/636), and gastric or duodenal polyps 6.8% (43/636). Reflux esophagitis could be detected in 139/636 patients (21.9%). Barrett's esophagus (BE) was histologically diagnosed in 95 cases (15.0%), whereas BE was suspected endoscopically in 75 cases (11.3%) only. Esophageal adenocarcinomas were detected in 3 cases (0.5%). Change of the operative strategy due to endoscopically or histologically detected pathologic findings had to be performed in 10 cases (1.6%).
Conclusion
Preoperative upper-GI endoscopy identifies a wide range of abnormal endoscopic findings in obese patients, which may have a significant impact on decision-making, particularly regarding the most suitable bariatric procedure and the appropriate follow-up. Therefore, preoperative upper-GI endoscopy should be considered in all obese patients prior to bariatric procedure.