01.12.2017 | Case report | Ausgabe 1/2017 Open Access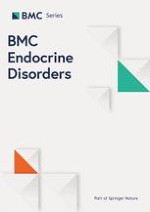 Prepubertal onset of slipped capital femoral epiphysis associated with hypothyroidism: a case report and literature review
Zeitschrift:
Autoren:

Saori Kadowaki, Tomohiro Hori, Hideki Matsumoto, Kaori Kanda, Michio Ozeki, Yu Shirakami, Norio Kawamoto, Hidenori Ohnishi, Toshiyuki Fukao
Abstract
Background
Slipped capital femoral epiphysis (SCFE) is a common hip disorder characterized by displacement of the capital femoral epiphysis from the metaphysic through the femoral epiphyseal plate. SCFE usually occurs during puberty, with obesity a common risk factor. We experienced a rare case of SCFE associated with hypothyroidism in a prepubescent patient who was not obese.
Case presentation
The patient was an 8-year-old boy suffering from bilateral SCFE with hypothyroidism. The patient's growth had started to slow at 4 years of age, and at 8 years he was of short stature. During his evaluation for SCFE management, primary hypothyroidism was diagnosed due to the presence of anti-thyroid peroxidase and anti-thyroglobulin antibodies. After the patient was treated for hypothyroidism, which improved his thyroid function, surgery was performed for bilateral SCFE.
Conclusions
Among the 42 patients with SCFE associated with hypothyroidism in the literature, most SCFE occurred during puberty or in adults with delayed epiphyseal closure. Only two patients (4.8%), including the present patient, were ≤9 years old. Although being overweight or obese is common for patients with SCFE associated with hypothyroidism (76.0%), it was not observed in the present case. Persistent hypothyroidism, however, may be a risk factor for SCFE even before puberty and without obesity.