24.11.2016 | Original Contributions | Ausgabe 7/2017 Open Access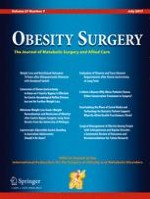 Preserved Fat-Free Mass after Gastric Bypass and Duodenal Switch
Zeitschrift:
Autoren:

Martin Skogar, Ulf Holmbäck, Jakob Hedberg, Ulf Risérus, Magnus Sundbom
Abstract
Background
Concerns for the possibility of an excessive loss of fat-free mass (FFM) and resting metabolic rate (RMR) after bariatric surgery, such as Roux-en-Y gastric bypass (RYGB) and duodenal switch (BPD/DS), have been raised.
Objectives
This study aims to examine body composition and RMR in patients after RYGB and BPD/DS and in non-operated controls.
Methods
Body composition and RMR were studied with Bod Pod and indirect calorimetry in weight-stable RYGB (
n
= 15) and BPD/DS patients (
n
= 12) and compared with non-operated controls (
n
= 17). All patients were 30–55 years old and weight stable with BMI 28–35 kg/m
2
.
Results
FFM% was 58% (RYGB), 61% (BPD/DS), and 58% (controls). Body composition did not differ after RYGB and BPD/DS compared to controls, despite 27 and 40% total body weight loss, respectively. No difference in RMR or RMR/FFM was observed (1539, 1617, and 1490 kcal/24 h; and 28.9, 28.4, and 28.8 kcal/24 h/kg).
Conclusion
Weight-stable patients with BMI 28–35 kg/m2 after RYGB and BPD/DS have a body composition and RMR similar to that of non-operated individuals within the same BMI interval.