01.12.2018 | Research | Ausgabe 1/2018 Open Access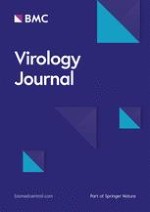 Pretreatment microRNA levels can predict HBsAg clearance in CHB patients treated with pegylated interferon α-2a
Zeitschrift:
Autoren:

Yanlin Yang, Ming Liu, Ying Deng, Yan Guo, Xuqing Zhang, Dedong Xiang, Li Jiang, Zhonglan You, Yi Wu, Maoshi Li, Qing Mao
Wichtige Hinweise
Electronic supplementary material
Abstract
Background
To investigate the predictive capability of microRNAs (miRNAs) prior treatment for HBsAg clearance in chronic hepatitis B (CHB) treated with pegylated interferon α-2a (PEG-IFNα-2a).
Methods
The treatment effect was determined by HBsAg clearance and subjects were classified into HBsAg clearance group and non HBsAg clearance group. Differential miRNAs expression in peripheral blood mononuclear cells (PBMC) was screened using microarrays in an identification cohort (
n
 = 20) and validated by quantitative reverse-transcription polymerase chain reaction (qRT-PCR) in a confirmation cohort (
n
 = 47). Receiver operating characteristic curve (ROC), logistic regression and gene ontology (GO)/Pathway analyses were used to evaluate the predictive capability of selected miRNAs for HBsAg clearance and determine their mechanistic roles.
Results
Twenty-seven subjects (40.3%) acquired HBsAg clearance, ten in the identification cohort and seventeen in the confirmation cohort. Four miRNAs out of twelve (miR-3960, miR-126-3p, miR-335-5p, miR-23a-3p) were verified to be differential expressed by qRT-PCR in the confirmation cohort. Their expression patterns were consistent with the microarray results. Their levels were lower in the response group compared with the nonresponse group (
p
 < 0.05). The areas under curve (AUC) were 0.8333 (
p
 = 0.001), 0.751 (
p
 = 0.01), 0.7294 (
p
 = 0.013), 0.6275 (
p
 = 0.094) and positive predict values (PPV) were 84.62, 60.00, 70.00, 28.57% for miR-3960, miR-126-3p, miR-335-5p, and miR-23a-3p respectively. The AUC and PPV of the combination of miR-3960 and miR-126-3p were 0.8529 and 92.31%, which were better than using miR-3960 alone, but the differences were not statistically significance (
p
 > 0.05).
Conclusions
We identified differential expressed miRNAs between response and nonresponse groups of PEG-IFNα-2a treatment and demonstrated that miR-3960 was the optimal predictor for HBsAg clearance compared with other miRNAs, but it requires to be further comfired in larger cohort studies.
Trial registration
ChiCTR ChiCTR-ROC-16008735, registered retrospectively on 28 June, 2016.