01.12.2018 | Research article | Ausgabe 1/2018 Open Access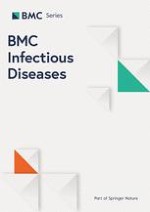 Prevalence and antibiotic susceptibility of Uropathogens from cases of urinary tract infections (UTI) in Shashemene referral hospital, Ethiopia
Zeitschrift:
Autoren:

Wubalem Desta Seifu, Alemayehu Desalegn Gebissa
Wichtige Hinweise
Electronic supplementary material
Abstract
Background
Urinary tract infection (UTI) remains to be one of the most common infectious diseases diagnosed in developing countries. And a widespread use of antibiotics against uropathogens has led to the emergence of antibiotic resistant species. A laboratory based cross-sectional survey was conducted in Shashemene referral hospital to determine the prevalence and antibiotic susceptibility of uropathogens.
Methods
We have collected 384 clean catch mid-stream urine samples from all suspected UTI outpatients using sterile screw capped container. The urine samples were cultured and processed for subsequent uropathogens isolation. The isolated pure cultures were grown on BiOLOG Universal Growth agar (BUG) and identified using GEN III OmniLog® Plus ID System identification protocols. The identified species were then exposed to selected antibiotics to test for their susceptibility.
Results
The overall prevalence of urinary tract infection in the area was 90.1%. Most frequently isolated uropathogen in our study was
Escherichia coli
(39.3%). While,
Staphylococcus
species (20.2%),
Leuconostoc
species (11.4%),
Raoultella terrigena/Klebsiella spp./
(8.4%),
Salmonella typhimurium
(6.3%),
Dermacoccus nishinomiyaensis
(6.3%),
Citerobacter freundii
(5.2%) and
Issatchenkia orientalis/Candida krusei/
(2.7%) were the other isolates. We find that the relationship between uropathogens and some of UTI risk factors was statistically significant (
P
 < 0.05). Gentamicin was the most effective drug against most of the isolates followed by chloramphenicol and nitrofurantoin. In contrast, amoxicillin, vancomycin and cephalexin were the antibiotics to which most of the isolates developed resistance.
Conclusion
Urinary tract infection was highly prevalent in the study area and all uropathogens isolated developed a resistance against mostly used antibiotics.