01.12.2017 | Research article | Ausgabe 1/2017 Open Access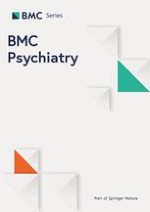 Prevalence and associated factors of alexithymia among adult prisoners in China: a cross-sectional study
Zeitschrift:
Autoren:

Li Chen, Linna Xu, Weimin You, Xiaoyan Zhang, Nanpeng Ling
Wichtige Hinweise
Electronic supplementary material
The online version of this article (doi:
10.​1186/​s12888-017-1443-7
) contains supplementary material, which is available to authorized users.
Abbreviations
BDI
Beck Depression Inventory
CTQ
Childhood Trauma Questionnaire
DDF
Difficulties Describing Feelings
DIF
Difficulties Identifying Feelings
EOT
Externally Oriented Thinking
TAS-20
the 20-item Toronto Alexithymia Scale
Background
The aims of the present paper were to (1) investigate the prevalence of alexithymia among prisoners in China and (2) identify the risk and protective factors for alexithymia among prisoners.
Methods
Participants
A total of 1705 adult prisoners detained in five main jails of the district of Zhejiang in China took part in the study. The final eligible participants were identified by the following steps.
Firstly, we used a multi-stage probability sampling method to obtain a representative sample. We used sub-prison and cellblock as stratum, and then selected cells by cluster sampling in each stratum (in China, the organization framework of each prison could be divided into four levels. The first level is the prison; the second level is the sub-prison and one prison could be consisted of several sub-prisons; the third level is the cellblock and one sub-prison could be consisted of several cellblocks; the fourth level is cells with 8–12 prisoners and one cellblock could be consisted of several cells). In total, 1942 prisoners were selected from 175 cells.
Secondly, four criteria have been used to select eligible participants from the 1942 prisoners: (1) prisoners had to be aged ≥18 years; (2) prisoners could speak or read Chinese characters; (3) we included sentenced prisoners but excluded remand prisoners; (4) prisoner was willing to participate in the study and to sign the informed consent.
Hence, 1864 adult prisoners were eligible for the study and consent with the study procedures, and then1705 made valid replies, yielding a response rate of 91.46%. Details of socio-demographic characteristics of the sample are displayed in Table
1
. Of a total 1705 prisoners, 1059 (62.1%) were male and 646 (37.9%) were female. Over two-third of them (1210, 71%) were under the age of 35 years old and lived in rural communities (1167, 68.4%). The prisoners were more likely to be under-educated with only 96 (5.6%) of them had education level of college or above. Over half of them were single (957, 56.1%). The information of maximum sentence length and duration in prison in our sample is listed in Table
1
(Additional file
1
: Data used in this paper).
Table 1
Socio-demographic characteristics of the sample (
N
= 1705)
Variables

Number

Percent

Gender

Male

1059

62.1

Female

646

37.9

Age

18–24

625

36.7

25–34

585

34.3

35–44

298

17.5

45–54

96

5.6

>54

23

1.3

Missing

78

4.6

Education level

Primary school or below

455

26.7

Secondary school/technical school

1140

66.9

College or above

96

5.6

Missing

14

0.8

Location of residence

Urban

504

29.5

Rural

1167

68.4

Missing

34

2.1

Marital status

Single

957

56.1

Married/Cohabiting

549

32.2

Divorced

172

10.1

Windowed

14

0.8

Missing

13

0.8

Maximum sentence length (months)

36 or less

426

25.0

37–60

408

23.9

61–120

419

24.6

>120

291

17.1

suspended death/life imprisonment

126

7.4

Missing

35

2.1

Duration in prison (months)

12 or less

374

21.9

13–24

601

35.2

25–48

345

20.2

49–120

253

14.8

>120

83

4.9

Missing

49

2.9
Procedure
A cross-sectional survey was conducted between May and December, 2014 among adult prisoners in five prisons (Zhejiang Jinhua Prison, Zhejiang No.3 Prison, Zhejiang Shilifeng Prison, Zhejiang Women Prison, and Zhejiang Shiliping Prison) in three cities: Quzhou, Jinghua and Hangzhou, Zhejiang Province, China. We chose these three cities as our study sites since Zhejiang was one of the areas with largest number of prisoners in China, i.e. over 0.1 million prisoners; and more than two-thirds of prisoners in this area are currently held in prisons located in Quzhou, Jinghua and Hangzhou.
The present study consisted of the following steps. First, in the pilot study, the pre-test was conducted with a convenience sample of 32 adult prisoners from the target population to evaluate clarity, comprehensiveness, and acceptability of questionnaires. Some amendments were made prior to the initial delivering. Secondly, in the formal study, after fully understanding the purpose and the procedure of the study, the eligible participants filled out the 20-min questionnaires in quiet and comfortable reading rooms in prisons (one to six participants at one time). The questionnaires were administered by trained researchers, including prison counselors and faculty members from Wenzhou Medical University, who had been provided systematic training before formal study. The questionnaires were anonymous and all participants took part in the study voluntarily. The study was reviewed and approved by the Ethics Committee of Wenzhou Medical University.
Measures
Data analysis
First of all, socio-demographic characteristics of the sample were described by the number and the percentage of each category for categorical variables. Secondly, we calculated prevalence estimates of alexithymia, childhood traumas and symptoms of negative emotions among the adult prisoners. Thirdly, independent sample t-tests were conducted for total scale and subscale scores of TAS-20 and CTQ between our adult prisoners sample and different Chinese adult norms. Fourthly, Pearson's correlation analysis was used to check the correlations between variables. Finally, multivariate binary logistic regression was used to determine the risk factors for alexithymia of prisoners, and crude odds ratios and adjusted odds ratios (OR) and 95% confidence intervals (CIs) for OR were calculated. In logistic regression modeling, the dependent variable was whether the prisoner was alexithymic or not ((if yes, then y = 1; otherwise, y = 0). The demographic information (age, gender, education, marital status and region of origin), imprisonment information (maximum sentence length and duration in prison), symptoms of negative emotion information (depression, anxiety and hopelessness) and experience of childhood trauma of prisoners were considered as the independent variables. All statistical analyses were performed with the use of SPSS statistics package (version 18.0) and all reported
P
-values are 2-tailed with statistical significance set at 0.05.
Results
Discussion
This study estimated the prevalence and frequency of alexithymia, childhood trauma and symptoms of negative emotion in a large sample of Chinese adult prisoners, and identified the risk and protective factors for alexithymia.
Another important finding of the study is that some socio-demographic factors are significantly associated with an increased or decreased likelihood of alexithymia against adult prisoners.
We should acknowledge some limitations in our study. First and foremost, our study was based on cross-sectional design, which is not possible to get a valid cause-and-effect relation between alexithymia and duration in prison, childhood trauma, and negative emotions. To clarify the causality, we need longitudinal data or panel data for further research. Secondly, although the clarity, comprehensiveness, and acceptability of questionnaires were verified among 32 selected prisoners, the present study is limited to self-report methodology, in which individual heterogeneity biases are not known. Fourth, some relevant potential factors that are important to alexithymia research were not included, such as participant's adult trauma and psychiatric history. The investigation of these factors could be key directions for future research. In addition, the sample is mainly adult prisoners in our study and it is doubtful to extend the results to teenage prisoners or general population. Further research on teenage prisoners sample or general population can be conducted.
Conclusion
The problems of psychological and mental health of adult prisoners are alarming these days. We made effort to explore the prevalence of alexithymia as well as its relationship with experience in prison, childhood traumas and negative emotions. The present study indicated that alexithymia was serious and widespread among adult prisoners in China. From the findings of this study, we concluded that alexithymia among adult prisoners can be explained by their level of education, experience of childhood traumas (emotional abuse and physical neglect) and symptoms of negative emotions (anxiety, depression and hopelessness). These findings have important policy or practical implications.
Acknowledgments
We extend a special note of gratitude to the prisoners and staff in Zhejiang Jinhua Prison, Zhejiang No.3 Prison, Zhejiang Shilifeng Prison, Zhejiang Women Prison, and Zhejiang Shiliping Prison for their assistance.
We also thank for his constructive comments during the review process.
We especially thank Wenzhou Medical College undergraduates and postgraduates who helped with data collection and data entry.
Authors'contributions
LC designed the study, conducted the data analysis, and completed the first draft of this article. LX revised the manuscript and made valuable suggestions. WMY, XYZ and NPL participated in data collection and data analysis. All authors have read and approved the final manuscript.
Funding
The Project Supported by the Doctoral Scientific Research Foundation of Wenzhou Medical University (Grant No.SKQDJ1501). The funding body had no role in the design of the study, data collection, analysis, interpretation of data, or writing the manuscript.
Availability of data and materials
All the data supporting the findings is contained within the manuscript.
Ethics approval and consent to participate
This research was approved by the Ethics Committee of Wenzhou Medical University. All the participants have been informed about the aim of the study, and the relevance of their participation for the study. All of them have provided written informed consent.
Consent for publication
Not applicable.
Competing interests
The authors declare that they have no competing interests.
Publisher's Note
Springer Nature remains neutral with regard to jurisdictional claims in published maps and institutional affiliations.
Open Access
This article is distributed under the terms of the Creative Commons Attribution 4.0 International License (
http://​creativecommons.​org/​licenses/​by/​4.​0/​
), which permits unrestricted use, distribution, and reproduction in any medium, provided you give appropriate credit to the original author(s) and the source, provide a link to the Creative Commons license, and indicate if changes were made. The Creative Commons Public Domain Dedication waiver (
http://​creativecommons.​org/​publicdomain/​zero/​1.​0/​
) applies to the data made available in this article, unless otherwise stated.