01.12.2018 | Research article | Ausgabe 1/2018 Open Access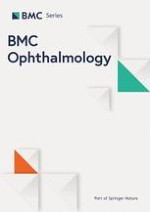 Prevalence and clinical characteristics of dry eye disease in community-based type 2 diabetic patients: the Beixinjing eye study
Zeitschrift:
Autoren:

Xinrong Zou, Lina Lu, Yi Xu, Jianfeng Zhu, Jiangnan He, Bo Zhang, Haidong Zou
Abstract
Background
This study was performed to evaluate the prevalence and clinical characteristics of dry eye disease (DED) in community-based type 2 diabetic patients and to identify the associated factors related with DED.
Methods
A total of 1360 type 2 diabetic patients in the Beixinjing community were randomly selected. All participants were given a questionnaire that assessed basic information and subjective symptoms.DED was diagnosed using the revised Japanese DED diagnostic criteria. All subjects underwent a routine ophthalmic examination, corneal sensitivity test, tear film break-up time(BUT) test, Schirmer I test, fluorescein and lissamine green staining(FL) and fundus photography. Diabetic retinopathy (DR) was graded according to the International severity scale of diabetic retinopathy and diabetic macular edema.
Results
Of the 1360 subjects, 238 (17.5%) were diagnosed with DED. There was a significant association between the presence of DED and higher blood glucose (
P
< 0.001, OR1.240) as well as higher levels of glycosylated hemoglobin HbA1c (
P
< 0.001, OR1.108). Corneal sensitivity was negatively correlated with the prevalence of DED (
P
= 0.02, OR0.973).
Conclusions
The prevalence of DED in this community-based study was 17.5%, which was lower than that observed in hospital-based studies. Diabetic patients with poor metabolic control were more likely to present with DED. A dry eye examination should be added to the routine screening of diabetes.