01.06.2014 | Original Paper | Ausgabe 6/2014 Open Access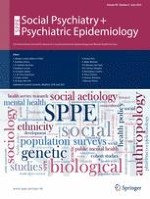 Prevalence and comorbidity of psychiatric disorders among 6-year-old children: 2004 Pelotas Birth Cohort
Zeitschrift:
Autoren:

Sandra Petresco, Luciana Anselmi, Iná S. Santos, Aluísio J. D. Barros, Bacy Fleitlich-Bilyk, Fernando C. Barros, Alicia Matijasevich
Abstract
Purpose
Most studies published on the prevalence of psychiatric disorders in children were conducted in high-income countries despite the fact that nearly 90 % of the world's population aged under 18 live in low- and middle-income countries. The study aimed to assess the prevalence of psychiatric disorders among children of 6 years of age, to examine the distribution of psychiatric disorders by gender and socioeconomic status and to evaluate the occurrence of psychiatric comorbidities.
Methods
The 2004 Pelotas Birth Cohort originally comprised 4,231 live births from Pelotas, southern Brazil. A total of 3,585 (84.7 % of 4,231 births) children aged 6 years were assessed using the Development and Well-Being Assessment (DAWBA).
Results
Nearly 13 % of the children presented a psychiatric diagnosis according to DSM-IV, being more prevalent among males than females (14.7 and 11.7 %, respectively,
p
= 0.009). Anxiety disorders were the most prevalent of all disorders (8.8 %) and specific phobias (5.4 %) and separation anxiety disorder (3.2 %) were the most common subtypes. Attention deficit hyperactivity disorder (2.6 %), oppositional defiant disorder/conduct disorder (2.6 %), and depression (1.3 %) were also diagnosed. More than one psychiatric disorder was presented by 17 % of children. Socioeconomically disadvantaged children had a higher prevalence of psychiatric disorders.
Conclusion
Our findings underline the early onset of psychiatric disorders among children and the frequent occurrence of psychiatric comorbidity. Early prevention is needed in the field of mental health in Brazil and should start during infancy.