01.12.2015 | Research article | Ausgabe 1/2015 Open Access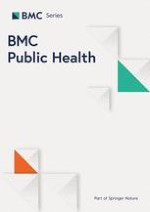 Prevalence and correlates of disability in Bogra district of Bangladesh using the rapid assessment of disability survey
Zeitschrift:
Autoren:

Manjula Marella, Nafisa L. Huq, Alexandra Devine, Sally M. Baker, Md A. Quaiyum, Jill E. Keeffe
Wichtige Hinweise
Competing interests
The author(s) declare that they have no competing interests.
Authors' contributions
MM, JK, AD, and SB contributed to the design of the study. NLH, AD, and SB were involved in training of interviewers. NLH was involved in the supervision of the fieldwork and writing sections of the initial draft. MM has performed the analysis, interpretation of results and drafting the manuscript. All authors contributed to the writing of the manuscript's final version. All authors read and approved the final manuscript.
Authors' information
Manjula Marella is a Research Fellow at the Nossal Institute for Global Health, The University of Melbourne. Her research interests are measurement of disability and its impact, evaluation of disability inclusive development programs and development and validation of questionnaires using qualitative and quantitative (Rasch analysis) techniques. She holds a PhD from the University of Melbourne. Her doctoral thesis focuses on the developing an evaluation framework for community-based rehabilitation programs.
Nafisa L Huq is Assistant Scientist at icddr,b, Bangladesh. She has been working on maternal health and adolescent reproductive health related research since 1999 in icddr,b. She obtained BDS (Bachelor of Dental Surgery) degree from Dhaka Dental College, Bangladesh and an MSc in Nutrition from the University of Dhaka, Bangladesh. She has several peer-reviewed publications. She is a member of the Ethical Review Committee of icddr,b as a reproductive health expert.
Alexandra Devine is a Senior Research Officer with the Nossal Institute for Global Health, The University of Melbourne. Her current research focus includes the measurement and impact of disability to support disability inclusive development; sexual and reproductive health of women and girls with disability; and the inclusion of people with psychosocial disability. She holds a Master of Public Health and a Master of Health Science in Public Health.
Sally M Baker is a Senior Technical Advisor at the Nossal Institute for Global Health, The University of Melbourne. She has worked with Governments, UN Agencies, NGOs and donors across Asia and the Pacific to support the inclusion of people with disability in development processes and outcomes for the past fifteen years. Sally works across multiple sectors, and currently provides technical assistance to strengthen capacity for disability inclusion within education, health, rehabilitation, data collection and economic empowerment programs in Vanuatu, Fiji and Samoa. Sally has a Masters in International Community Development (Asia and the Pacific) and a Bachelor of Applied Science (Occupational Therapy), and is currently a co-investigator on an inclusive education research project in the Pacific, and a disability inclusive sexual reproductive health program in the Philippines.
Md A Quaiyum is Associate Scientist at icddr,b, Bangladesh. He has been working primarily on maternal health related research since 1995 in icddr,b. He obtained MBBS (Bachelor of Medicine and Surgery) degree from Dhaka Medical College, Bangladesh in 1982. He has several journal article publications in peer-reviewed journals. He is especially recognized for developing a biodegradable Q-mat to assess postpartum blood loss objectively during childbirth.
Jill Keeffe is Professor at the Department of Ophthalmology, The University of Melbourne and the L V Prasad Eye Institute in Hyderabad, India. Her research over many years focused on population health and health services in eye care and low vision. Much of her work has been in Asian, African and Pacific countries working with government and non-government organizations in the development and evaluation of services. She has worked as a technical advisor to the World health Organization and Lions Clubs International Foundation. Professor Keeffe received an Order of Australia Medal in 2007 for services to eye care education and practice.
Abstract
Background
The aim of this study was to estimate the prevalence of disability and its associated risk factors among adults aged 18 years and over in Bogra district, Bangladesh.
Methods
The Rapid Assessment of Disability (RAD) survey was conducted using probability-proportional-to-size sampling to select 66 clusters each with 50 people aged 18 years and older in 2010. Households within clusters were selected through compact segment sampling. Disability was identified based on the responses to the self-assessment of functioning section of the RAD questionnaire. Descriptive and multivariate logistic regression analyses were performed to model the associations between risk factors and disability status.
Results
Of 1855 adults who participated in the study, 195 (10.5 %) had disability. Age and gender adjusted prevalence of disability in Bogra district was 8.9 % (95 % CI: 7.7, 10.3). The highest prevalence of functional limitation was related to psychological distress (4.7 %; 95 % CI: 3.8, 5.7) followed by vision (4.4 %; 95 % CI: 3.6, 5.4), and hearing (2.3 %; 95 % CI: 1.7, 3.0) difficulties. The adjusted odds of disability increased with age with approximately eight-fold increase from 2.9 % (95 % CI: 1.6, 5.1) in 18–24 years to 24.5 % (95 % CI: 20.2, 29.4) in 55 years and above. People with poor socio-economic status (OR 1.90; 95 % CI: 1.1, 3.3) and who were unemployed (OR = 4.6; 95 % CI: 1.8, 11.6) were more like to have disability compared to the higher socio-economic status and those who have an occupation respectively.
Conclusions
There is a significant need for promoting programs for health, well-being, and rehabilitation, and policies specifically targeting the older population, women, unemployed and poor people in Bangladesh.