01.12.2012 | Research article | Ausgabe 1/2012 Open Access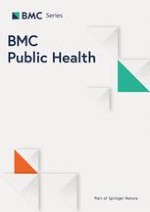 Prevalence and determinants of chronic kidney disease in community-dwelling elderly by various estimating equations
Zeitschrift:
Autoren:

Dietrich Rothenbacher, Jochen Klenk, Michael Denkinger, Mahir Karakas, Thorsten Nikolaus, Richard Peter, Wolfgang Koenig, for the ActiFE Study Group
Wichtige Hinweise
Electronic supplementary material
The online version of this article (doi:
10.​1186/​1471-2458-12-343
) contains supplementary material, which is available to authorized users.
Competing interest
The authors declare that they have no competing interests.
Authors' contributions
DR had conceived this study and drafted the manuscript. WK and MK organized and coordinated the laboratory measurements and helped to draft the ms. JK performed the statistical analysis. MD, TN, RP participated in the design and conduct, and coordination of the study. All authors read and approved the final manuscript.
Abbreviations
CKD-EPI
Chronic Kidney Disease Epidemiology (collaboration)
eGFR
Estimated glomerular filtration rate
Background
Chronic kidney disease (CKD) represents a global public health problem and affects a large proportion of the adult population worldwide [
1
,
2
]. CKD has a complicated relationship with diabetes and hypertension and other associated diseases, and it is an independent risk factor for cardiovascular diseases (CVD) as well as for all cause mortality [
1
]. Outcomes of CKD include not only progression to end-stage renal disease (ESRD) but also complications such as hypertension, malnutrition, anaemia, bone disease and a decreased quality of life [
3
,
4
]. CKD is also a proposed risk factor for adverse outcomes in other chronic diseases such as infections and various cancers.
In the meantime a paradigm shift has occurred. Early, subclinical CKD (and not only ESRD) has been associated with a large burden of disease and mortality [
5
]. This finding is clinically important, because early detection and treatment of CKD can prevent or delay the progression of CKD to ESRD and to other more common, but still severe complications related to CVD and to potential side effects or overdosing of medication.
Since the Kidney Disease Outcome Quality Initiation (K/DOQI) clinical practice guideline for definition and classification of CKD have been published and updated [
5
,
6
], more epidemiologic data about prevalence of CKD in the general population are available. However, few studies focused on risk factors for early stages of CKD among elderly and used the different suggested estimating equations of glomerular filtration rate (eGFR) to assess renal function in clinical practice.
The objective of the current study is to estimate the prevalence of CKD by means of Cr- and CysC- based estimating equations and to identify the main determinants of CKD in a large population-based group of non-institutionalized elderly subjects.
Methods
Ethics statement
The study was approved by the ethical committee of Ulm University. All participants provided written informed consent.
Study population
The ActiFE Ulm (Activity and Function in the Elderly in Ulm) study is a population-based cohort study in subjects aged 65 years and older, located in Ulm and adjacent regions in Southern Germany. Based on data from the local registry office a random-sample of 7,624 non-institutionalized inhabitants was contacted by mail and asked for participation. Exclusion criteria were severe deficits in cognition, vision or hearing that precluded the accomplishment of most assessments or serious German language difficulties. Between March 2009 and April 2010, 1,506 eligible individuals agreed to participate and underwent the baseline assessments (participation rate: 19.8%). Further details are described elsewhere [
7
,
8
].
Data collection
Participants satisfying the inclusion criteria were contacted by a field worker to make an individual appointment for an interview at home. Participants who did not want to be visited in their home were given the alternative to meet the interviewer in a designated room located at the Bethesda Geriatric Clinic, Ulm.
In total there were three visits incorporated in the ActiFE Ulm study, all to be completed within seven days. The first and last visits were conducted by a study nurse, the visit in between by a physician who conducted a physical exam. During the first visit the interviewer obtained informed consent from the participant, provided information about the study procedure and conducted the first half of the baseline interview. The second visit was conducted by a physician. In the last visit the interviewer accomplished the second half of the baseline interview. Briefly, the core questionnaires included questions on socio-demographic characteristics, diagnosis and related respiratory symptoms of asthma and COPD, physical functioning and activity, comorbidity ("has a doctor ever told you…"), exposures and potential risk factors related to asthma, COPD and physical activity, clinical management (treatment and self management issues), accessibility and use of health services.
If participants had separately agreed, blood was collected during the second visit. Participants who were successfully instructed on visit one, also provided mid-stream urine (morning void).
Laboratory methods
Blood at baseline was drawn in fasting state under standardized conditions. Serum creatinine (Cr) was measured by the kinetic Jaffe method (inter-assay CV 1.2–3.0%) on a IMDS-traceable reference standard. Serum cystatin C (CysC) was measured by immunonephelometry on a Behring Nephelometer II (inter-assay CV 2.9–3.2%). C-reactive protein (CRP) was determined by a high-sensitivity assay on the same device (inter-assay CV 5.2–6.4%). Urinary albumin was measured by immunonephelometry assay (inter-assay CV 2.8%). Blood lipid measurements and other measurements were done by routine methods. All markers were measured in a blinded fashion.
Assessment of chronic kidney disease
Kidney function was assessed by means of eGFR based on the three estimating equations as described below:
Renal damage was defined as albumin-to-creatinine ratio (ACR) in spot urine sample (microalbuminuria ACR 30 to < 300 mg/g, macroalbuminuria ≥ 300 mg/g).
Statistical analysis
Descriptive statistics were calculated to describe the main characteristics of the study population. In addition prevalence of CKD was calculated according to the various eGFR estimating equations, stratified by age and gender. Correlations between various renal function markers, eGFR and biochemical markers were calculated by the non-parametric partial correlation coefficient after adjustment for age and gender. The relationship between various potential risk factors and CKD was quantified using unconditional logistic regression. Mainly factors which were described as potential risk factors in the literature were considered. Odds ratios (OR) and 95% confidence intervals (CI) were estimated in crude and adjusted analyses. All analyses were performed using SAS 9.2.
Results
Alcohol consumption showed also a negative association with prevalence of CKD and remained statistically significant after full adjustment for all estimating equations. Furthermore, similar associations were seen with manifest obesity, partly hypertension and subjects with a history of myocardial infarction with all three estimating equations, and with heart failure with the CysC-based CKD definition.
Discussion
In this large population based study involving 1471 subjects aged 65 to 91 years and randomly selected from the general population in the area of Ulm (Germany) prevalence of chronic kidney disease stage 3–5 varied considerably between 14.6% on a CysC-based estimating equation to 33.0% and 34.3% based on CKD-EPI and MDRD estimating equation, respectively. A steep increase with age was found with all three equations. Although the cystatin C based definition of CKD resulted in a lower prevalence compared to the creatinine based ones, other measures of renal damage such as albuminuria were more prevalent in those defined by CysC-eGFR. The association of gender with CKD was quite different, depending on the definition used: women had a higher risk for CKD with the MDRD.
Conclusions
Our study in a large group of elderly shows that prevalence of CKD is very variable based on the estimating equations used and implies that CysC- based assessment of renal function may be more specific and helpful to identify a group of patients that may benefit from a specific intervention. More work is needed to comparatively evaluate the various estimating equations especially in elderly before we are able to assess the practical consequences of the observed differences.
Acknowledgement
The study was funded by a grant from the Ministry of Science, Research and Arts, state of Baden-Wuerttemberg, Germany, as part of the Geriatric Competence Center, Ulm University and by funds from the Department of Internal Medicine II-Cardiology, Ulm University.
The funders had no role in study design, data collection and analysis, decision to publish, or preparation of the manuscript.
The ActiFE Ulm study group consists further of: B. Böhm, Department of Internal Medicine I - Division of Endocrinology; H. Geiger, Department of Dermatology and Allergology; A. Lukas, Agaplesion Bethesda Clinic, Ulm; J. Stingl, Institute of Pharmacology of Natural Products & Clinical Pharmacology; M. Riepe, Division of Gerontopsychiatry, Department of Psychiatry and Psychotherapy II; L. Rudolph, Max-Planck Group for Stem Cell Research; K. Scharffetter-Kochanek, Department of Dermatology and Allergology; Ch. Schumann, Department of Internal Medicine II – Pneumology; J.M. Steinacker, Department of Sports- and Rehabilitation Medicine; A. Ludolph, C. von Arnim, Department of Neurology; G. Nagel, F. Herbolsheimer, G. Weinmayr, Institute of Epidemiology and Medical Biometry. All Institutes are located at Ulm University.
This article is published under license to BioMed Central Ltd. This is an Open Access article distributed under the terms of the Creative Commons Attribution License (
http://​creativecommons.​org/​licenses/​by/​2.​0
), which permits unrestricted use, distribution, and reproduction in any medium, provided the original work is properly cited.
Competing interest
The authors declare that they have no competing interests.
Authors' contributions
DR had conceived this study and drafted the manuscript. WK and MK organized and coordinated the laboratory measurements and helped to draft the ms. JK performed the statistical analysis. MD, TN, RP participated in the design and conduct, and coordination of the study. All authors read and approved the final manuscript.