01.12.2017 | Research | Ausgabe 1/2017 Open Access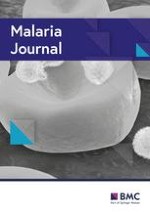 Prevalence and determinants of malaria among children in Zambézia Province, Mozambique
Zeitschrift:
Autoren:

James G. Carlucci, Meridith Blevins Peratikos, Charlotte B. Cherry, Melanie L. Lopez, Ann F. Green, Lazaro González-Calvo, Troy D. Moon, the Ogumaniha-SCIP Zambézia Consortium
Abstract
Background
Malaria is the leading cause of death among children in Mozambique. Prevalence and factors associated with malaria are not well studied among children in rural Zambézia Province. Whether prevalence of malaria varies across diverse districts within the province is unknown.
Methods
A cross-sectional survey of female heads of household was conducted during April and May 2014, a period of peak malaria transmission. Data were collected on up to two randomly selected children aged 6–59 months per household. The outcome of interest was self-report of symptomatic malaria confirmed by diagnostic test in the past 30 days. Analyses accounted for the two-stage cluster sample design. Prevalence of symptomatic malaria was calculated for the province and three over-sampled focus districts—Alto Molócuè, Morrumbala, and Namacurra. Multivariable logistic regression of symptomatic malaria diagnosis included: district, age, sex, education, bed net use, urban setting, distance to health facility, income, roofing material, and pig farming.
Results
Data were collected on 2540 children. Fifty percent were female, and the median age was 24 months. Sixty percent of children slept under bed nets the night prior to the survey, but utilization varied between districts (range 49–89%; p < 0.001). Forty-three percent of children reported fever in the past 30 days, 91% of those sought care at a health facility, 67% of those had either a malaria rapid diagnostic test or blood smear, and 67% of those had a positive test result and therefore met our case definition of self-reported symptomatic malaria. There were significant differences in prevalence of fever (p < 0.001), health-seeking (p < 0.001), and diagnostic testing (p = 0.003) between focus districts. Province-wide prevalence of symptomatic malaria was 13% and among focus districts ranged from 14% in Morrumbala to 17% in Namacurra (p < 0.001). Higher female caregiver education (OR 1.88; 95% CI 1.31–2.70), having fewer young children in the household (OR 1.25; 95% CI 1.01–1.56), and higher income (OR 1.56; 95% CI 1.11–2.22) were independently associated with having a child with symptomatic malaria.
Conclusions
Self-reported symptomatic malaria is highly prevalent among children in Zambézia Province, Mozambique and varies significantly between diverse districts. Factors facilitating access to health services are associated with symptomatic malaria diagnosis. These findings should inform resource allocation in the fight against malaria in Mozambique.