01.12.2018 | Research article | Ausgabe 1/2018 Open Access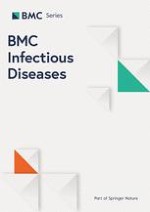 Prevalence and genotype distribution of human papillomavirus infection among women in northeastern Guangdong Province of China
Zeitschrift:
Autoren:

Pingsen Zhao, Sudong Liu, Zhixiong Zhong, Jingyuan Hou, Lifang Lin, Ruiqiang Weng, Luxian Su, Nanxiang Lei, Tao Hou, Haikun Yang
Abstract
Background
Human papillomavirus (HPV) DNA testing is an important method in cervical cancer screening. However, the studies on prevalence and genotype distribution of HPV among women in northeastern Guangdong Province of China are very limited.
Methods
A total of 28,730 women attending the Department of Gynecology of Meizhou People's Hospital (Huangtang Hospital), Meizhou Hospital Affiliated to Sun Yat-sen University between January 1st, 2013 and June 1st, 2015 were enrolled in this study. HPV type-specific distribution was tested using flow-through hybridization and gene chip.
Results
The overall prevalence of HPV infection was 19.81%, among which 79.09% were infected with high-risk HPV subtypes in the subjects. The 5 most predominant genotypes were HPV16, 52, 58, 18 and 81. Most HPV infections were observed in women aged 41–50 and women aged 30–59 accounted for a proportion of over 80%.
Conclusions
Our findings suggested a high burden of HPV infection among women in northeastern Guangdong Province of China. We identified the top 5 HPV genotypes as well as the age-specific distribution of HPV infections in this area.