04.05.2020 | PULMONARY HYPERTENSION | Ausgabe 3/2020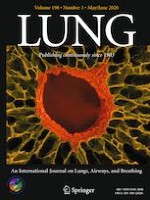 Prevalence and Mortality of Pulmonary Hypertension in ESRD: A Systematic Review and Meta-analysis
Zeitschrift:
Autoren:

Noah C. Schoenberg, Rahul G. Argula, Elizabeth S. Klings, Kevin C. Wilson, Harrison W. Farber
Wichtige Hinweise
Electronic supplementary material
Abstract Previously Presented: Abstract Poster Presentation, American Thoracic Society 31 International Meeting, held in San Diego, California, May 2018.
Publisher's Note
Springer Nature remains neutral with regard to jurisdictional claims in published maps and institutional affiliations.
Abstract
Introduction
Pulmonary hypertension (PH) in the setting of end-stage renal disease (ESRD) has important prognostic and therapeutic consequences. We estimated the prevalence of PH among patients with ESRD and compared mortality between ESRD patients with and without PH.
Methods
Two independent reviewers searched three databases using a search strategy built around the medical subject headings of "hypertension, pulmonary" and "kidney failure, chronic." Keywords and synonyms were also used. Study selection criteria included (1) Enrollment of patients with ESRD undergoing hemodialysis or peritoneal dialysis, (2) Assessment for the presence of PH using transthoracic echocardiography, and (3) Determination of PH prevalence or associated mortality. The primary outcomes were prevalence of PH or associated mortality. The Grading, Recommendations, Assessment, Development, and Evaluation (GRADE) approach was used to rate the quality of evidence.
Results
The initial search identified 1046 publications, from which 41 studies were selected. The median prevalence of PH identified by echocardiographic criteria among patients with ESRD was 38% (range 8% to 70%), and was significantly increased in patients undergoing hemodialysis (HD) (median 40%, range 16–70%) as compared with peritoneal dialysis (PD) (median 19%, range 8–37%). Meta-analysis demonstrated that overall mortality was higher among ESRD patients with echocardiographic evidence of PH than ESRD patients without echocardiographic evidence of PH (RR 2.02; 95% CI 1.70–2.40).
Conclusions
Echocardiographic evidence of PH is common among ESRD patients undergoing dialysis and associated with increased mortality. Identification of those patients with evidence of pulmonary hypertension on transthoracic echocardiography may warrant further evaluation and treatment.