18.10.2017 | Original Contributions | Ausgabe 4/2018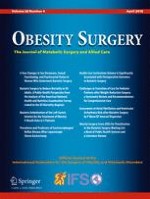 Prevalence and Predictors of Gastroesophageal Reflux Disease After Laparoscopic Sleeve Gastrectomy
Zeitschrift:
Autoren:

Saad Althuwaini, Fahad Bamehriz, Abdullah Aldohayan, Waleed Alshammari, Saleh Alhaidar, Mazen Alotaibi, Abdullah Alanazi, Hossam Alsahabi, Majid Abdularahman Almadi
Abstract
Background and Aims
Laparoscopic sleeve gastrectomy (LSG) might be associated with a new onset or worsening of gastroesophageal reflux disease (GERD). We aim to evaluate the prevalence of post-LSG GERD symptoms and its predictors.
Methods
We included patients who underwent primary LSG at a university hospital from 2009 to 2015. We used the GERD-Health-Related Quality of Life (GERD-HRQL) questionnaire and included questions regarding regurgitation to evaluate symptoms before and after LSG; each item was scored from 1 to 5 based on the symptom severity.
Results
A total of 213 patients (mean age, 36.08 ± 10.22 years; 48.36% were men) were included. The mean preoperative body mass index (BMI) was 47.84 kg/m
2
, mean percent total weight loss was 37.99% (95% CI, 36.64 to 39.34), mean percent excess weight loss was 84.14% (95% CI, 80.91 to 87.36), and the mean percent excess BMI loss was 84.17% (95% CI, 80.94 to 87.41). The mean heartburn score while standing increased (0.71 vs. 1.09,
p
< 0.01) as well as the score of heartburn requiring a diet change (0.67 vs. 1.16,
p
< 0.01) post-LSG. The scores for dysphagia, odynophagia, and regurgitation increased. New-onset heartburn was reported in 47.06% of our cohort. Those with high preoperative BMIs were less likely to develop new-onset or worsening symptoms of GERD (odds ratio [OR], 0.97; 95% confidence interval [CI], 0.95–0.99). More severe heartburn symptoms while standing were associated with higher risks of developing or worsening GERD symptoms (OR, 1.22; 95% CI, 1.01–1.47). None of the other variables could predict the development or worsening of the GERD symptoms.
Conclusion
Symptoms of heartburn and regurgitation are common after LSG; however, none of the variables preoperatively could strongly predict patients who would develop new onset or experience worsening of symptoms postoperatively.