01.12.2015 | Research article | Ausgabe 1/2015 Open Access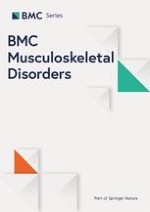 Prevalence and risk factors for patient-reported joint pain among patients with HIV/Hepatitis C coinfection, Hepatitis C monoinfection, and HIV monoinfection
Zeitschrift:
Autoren:

Alexis Ogdie, Wyki Gina Pang, Kimberly A Forde, Bhangle D Samir, Lakeisha Mulugeta, Kyong-Mi Chang, David E Kaplan, Valerianna K Amorosa, Jay R Kostman, Rajender K Reddy, Ralph H Schumacher, Vincent Lo Re III
Wichtige Hinweise
Electronic supplementary material
The online version of this article (doi:
10.​1186/​s12891-015-0552-z
) contains supplementary material, which is available to authorized users.
Alexis Ogdie and Wyki Gina Pang contributed equally to this work.
Competing interests
The authors declare that they have no competing interests.
Authors' contributions
AO, VL, and HRS conceptualized and designed the study with help from KM, VA, JK, and DE. All contributed substantially to data acquisition. AO, VL, HRS, WGP, KM, KAF, JK, SDB, LM, and KRR assisted in interpretation of the data. AO performed the statistical analysis with assistance from VL and KAF. AO and WGP together drafted the first version of the manuscript. All authors were involved in revision of the manuscript and all approved the final version.
Abstract
Background
To determine the prevalence of patient-reported joint pain among patients with human immunodeficiency virus (HIV)/chronic hepatitis C virus (HCV) coinfection, chronic HCV monoinfection, and HIV monoinfection followed in hepatology and infectious disease outpatient practices.
Methods
Standardized interviews were performed among 79 HIV/HCV-coinfected, 93 HCV-monoinfected, and 30 HIV-monoinfected patients in a cross-sectional study within hepatology and infectious disease clinics at three centers. The Multi-Dimensional Health Assessment Questionnaire was used to ascertain joint pain and associated symptoms. Information on potential risk factors for joint pain was obtained during the interview and by chart review. Logistic regression was used to determine adjusted odds ratios (aORs) with 95% confidence intervals (CIs) of joint pain associated with risk factors of interest among chronic HCV-infected and HIV-infected patients.
Results
Joint pain was more commonly reported in HCV-monoinfected than HIV/HCV-coinfected (71% versus 56%; p = 0.038) and HIV-monoinfected (71% versus 50%; p = 0.035) patients. A previous diagnosis of arthritis and current smoking were risk factors for joint pain among HCV-infected patients (arthritis: aOR, 4.25; 95% CI, 1.84-9.81; smoking: aOR, 5.02; 95% CI, 2.15-11.74) and HIV-infected (arthritis: aOR, 5.36; 95% CI, 2.01-14.25; smoking: aOR, 6.07; 95% CI, 2.30-16.00) patients.
Conclusion
Patient-reported joint pain was prevalent among all three groups, but more common among chronic HCV-monoinfected than either HIV/HCV-coinfected or HIV-monoinfected patients. A prior diagnosis of arthritis and current smoking were risk factors for patient-reported joint pain among both HCV-infected and HIV-infected patients.