20.10.2015 | Original Article | Ausgabe 2/2016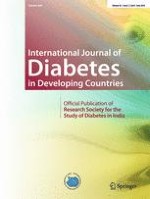 Prevalence and risk factors of chronic complications of type 2 diabetic inpatients in Hubei Province of central China: results from a multiple-hospital study
Autoren:

Hu Xiao, Ai-Ming Du, Peng Yun, Hui-Fang Zhang, Yuan Tian, Fang-Xi Xiao
Wichtige Hinweise
Hu Xiao and Ai-Ming Du contributed equally to this work.
Abstract
The aims of this study are to investigate the prevalence of chronic complications in hospitalized patients with type 2 diabetes mellitus (T2DM) in Hubei Province of central China and identify its risk factors. The retrospective study was conducted in eight hospitals from four cities in Hubei Province from January 1, 2013 to December 31, 2014. All participants' medical records were collected, and the demographic characteristics, clinical features, metabolic parameters, and the occurrence of chronic complications associated to T2DM were analyzed. The risk factors of T2DM-associated chronic complications were identified using multivariate logistic stepwise regression analysis. A total of 3469 subjects with T2DM were enrolled. Among the subjects included, 28.9 % developed diabetic retinopathy, 39.2 % developed diabetic nephropathy, 53.0 % developed diabetic neuropathy, 25.8 % developed coronary heart disease (CHD), 17.4 % developed cerebral vascular diseases (CVD), and 10.4 % developed vascular disease of the lower extremities. The prevalence of chronic complications varied significantly among the four cities (
P
 < 0.01). Multivariate logistic regression analysis showed that systolic blood pressure >125 mmHg and diabetes duration >5 years were common risk factors for microvascular (nephropathy and retinopathy) and macrovascular (CHD and CVD) complications. Meanwhile, family history of diabetes was risk factor for retinopathy, HbA1c >7.0 % was risk factor for retinopathy and CHD, LDL-C level >3.12 mmol/L was risk factor for nephropathy and CHD, triglyceride level >1.7 mmol/L was risk factor for nephropathy and CVD, and age at admission >45 years was risk factor for CHD and CVD. Chronic complications are highly prevalent in inpatients with T2DM in Hubei Province of central China. Future efforts directed at blood glucose control and management of hypertension and lipid disorders are required to prevent and reduce the occurrence of chronic complications of T2DM.