24.08.2014 | Original Article | Ausgabe 2/2016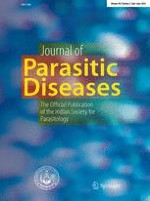 Prevalence, morphology and scanning electron microscopy study of myxozoan parasites
Zeitschrift:
Autoren:

Kurva Raghu Ramudu, Gadadhar Dash
Abstract
The present study was conducted from Garia, West Bengal, India to study the Prevalence, Morphology, Severity of infestation and Scanning Electron Microscopy of Myxozoan parasites in Indian Major Carps. A total of 155 fishes were examined, out of which 80 were found infected with myxozoan parasites (51.61 %) and severity of infestation varied from 0.5 to 2. Three known species
Myxobolus orissae, M. carnaticus and Thelohanellus caudatus
were found infecting various organs such as gills and fins of Indian major carps. Spores of the species,
T. caudatus
measures 12.84 ± 0.77 (11.4–14.2) μm × 8.5 ± 0.71 (7.6–9.6) μm and was elongated pyriform in shape with rounded posterior and tappering anterior end. Parietal folds were absent. The single polar capsule is rounded to oval shaped with slightly pointed anterior end and broad posterior end with size measuring 6.15 ± 2.09 (4.2–10.4) μm × 3.85 ± 1.18 (2.3–4.9) μm.
M. orissae
, size of the mature spore measures 15.6–19.7 (17.25) μm × 5.7–9.3 (6.70) μm and was elongated pyriform in shape. Two polar capsules are distinctly unequal. Large one measures 6.8–13.5 (8.75) × 1.4–3.1 (1.90) μm and smaller one 6.9–11.5 (7.44) × 1.7–2.4 (1.57) μm in size. Both are broadly pyriform with pointed pointed anterior end and rounded posterior end.
Myxobolus carnaticus
mature histozoic spores measures 8.1–12.9 (9.49) × 7.2–10 (8.27) µm are creamy white to yellow in colour tear shaped in valvular view with rounded posterior and bluntly pointed anterior ends.