01.12.2015 | Research article | Ausgabe 1/2015 Open Access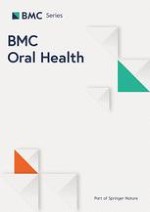 Prevalence of dyslalias in 8 to 16 year-old students with anterior open bite in the municipality of Envigado, Colombia
Zeitschrift:
Autoren:

Andrea Ocampo-Parra, Bibiana Escobar-Toro, Valentina Sierra-Alzate, Zulma Vanessa Rueda, María Clara Lema
Wichtige Hinweise
Competing interests
The authors declare that they have no competing interests.
Authors' contributions
Conception, work design, data analysis and interpretation: AOP, BET, VAS, ZVR, MCL. Manuscript writing: AOP, BET. Critical revision of the paper for important intellectual content: AOP, BET, VAS, ZVR, MCL. Approval of final manuscript: AOP, BET, VAS, ZVR, MCL.
Abstract
Background
Anterior open bite AOB is the most common malocclusion associated with speech disorders and the literature has shown that problems of occlusion involve all oral functions. AOB not only produce aesthetic and occlusal problems for the patient and modifies the union of the lips, tongue, teeth, palate, palatal rugae and oropharynx, and thus affecting the ability to communicate well with their surroundings.
The prevalence of AOB in children and adolescent in our population is unknown. Furthermore, the most frequent type of dyslalias in children with this malocclusion is also unknown. Therefore, the aim of the study was to describe the frequency and types of dyslalia in students between 8-16 years with AOB, as well as the difference in the types of dyslalia according to the magnitude of AOB.
Methods
A cross-sectional study was conducted. Clinical assessment of AOB in students from the municipality of Envigado, Colombia, was performed. Students from 8 to16 years of age were examined during the second semester of 2011 and first semester of 2012. Phonoaudiological assessment was carried out in students in the mixed or permanent dentition. Exclusion criteria included children with history of systemic disease, altered skeletal development, neurological and psychiatric disorders, and residents in other departments. In addition, students undergoing orthodontic treatment at the time of evaluation or with history of previous orthodontic treatment, as well as those who did not cooperate with the oral cavity evaluation, were excluded.
Results
Six thousand one hundred sixty five children were evaluated. One hundred sixty six presented AOB (prevalence: 2.7 %; 95 % CI: 2.28–3.10). Thirty four students were excluded. 26.5 % of the sample presented mild AOB, 66.7 % moderate, and 6.8 % severe. Some type of dyslalia was found in 77.4 % of the students, being distortion (75.8 %) the most common. The most frequently altered phonemes were: / d / t / s / ch / ñ /. No significant association between different types of dyslalia and AOB severity (
p
-value = 0.974) was found.
Conclusion
Prevalence of AOB in Envigado is low (2.7 %). Phonation alterations are very common in children with AOB (77.8 %), and distortion is the most frequent type of dyslalia (75.8 %). In order to diagnose and treat occlusal and phonetic problems, and to avoid possible recurrence, interdisciplinary approach is recommended.