30.06.2018 | Original Article | Ausgabe 6/2018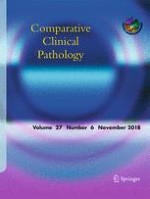 Prevalence of ectoparasites in black rat (
Rattus rattus

) from Mangrove forests of Qeshm Island, Iran
Zeitschrift:
Autoren:

Ali Eslami, Ali Yousefi, Ashley P. G. Dowling
Abstract
Rodents are mammals of the order Rodentia and can harbor a number of ectoparasites. Ectoparasites can transmit diseases to human and domestic animals in residential and non-residential areas. The aim of this study was to determine the prevalence of ectoparasites in
Rattus rattus
from Mangrove forests and villages of Qeshm Island. The rodent samples were collected by live traps during 2013–2014. The gender, genus, and species of captured animals were recorded and ectoparasites were collected by skin surface brushing, and subsequently, samples were identified in a laboratory. Overall, 100 rodents were captured in the present study and three species of ectoparasites were collected as follows:
Polyplax spinulosa
(66%),
Laelaps nuttalli
(61%), and
Liponyssoides muris
(10%). Generally, 80 rodents (80%) were infested with at least one species of ectoparasites. Statistical analysis by the chi-square test did not show any significant relation between gender and ectoparasites (
p
˃ 0.05). The results of our study indicate that high infestation of the ectoparasite community associated with the rodents captured from Mangrove forests and villages of Qeshm Island is important in terms of public health.