15.12.2016 | Original Article | Ausgabe 7/2017 Open Access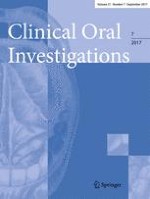 Prevalence of erosive lesions with respect to risk factors in a young adult population in Poland—a cross-sectional study
Zeitschrift:
Autoren:

Izabela Strużycka, Adrian Lussi, Agnieszka Bogusławska-Kapała, Ewa Rusyan
Abstract
Objective
The study was conducted to investigate the prevalence of erosive lesions and related risk factors in the population of 18-year-old young adults in Poland.
Materials and methods
Calibrated examiners measured erosive tooth wear according to Basic Erosive Wear Examination (BEWE) scoring system in 1869 patients and assessed the impact of risk factors with a questionnaire.
Results
Erosion was present in 42.3% of the patients. Early damage to the enamel was the most frequent finding (BEWE 1)—28.9%. More advanced lesions (BEWE 2) were observed in 12% of the patients. Advanced damage to the teeth (BEWE 3) was diagnosed rarely—1.4% of the examined population. Acidic diet, hygienic habits, and medical conditions such as asthma, eating disorders, and esophageal reflux showed statistical significance, as associated with erosion in the examined population.
Conclusions
The present study indicates that dental erosion is a common oral disease in the 18-year-old population with prevalence of frequency and intensity in males. However, on the basis of observations carried out in recent years, it may be assumed that the prevalence of this type of lesion is increasing.
Clinical relevance
Present findings support other longitudinal studies toward evaluation of the BEWE system as a valuable standard for assessing erosive and related risk factors among different populations.