01.12.2019 | Research article | Ausgabe 1/2019 Open Access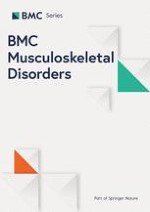 Prevalence of feet and ankle arthritis and their impact on clinical indices in patients with rheumatoid arthritis: a cross-sectional study
Zeitschrift:
Autoren:

Sung Won Lee, Seong-Yong Kim, Sung Hae Chang
Wichtige Hinweise
Electronic supplementary material
Publisher's Note
Springer Nature remains neutral with regard to jurisdictional claims in published maps and institutional affiliations.
Abstract
Background
We aimed to evaluate the prevalence of foot and/or ankle arthritis (FAA) and its impact on clinical indices in patients with rheumatoid arthritis (RA).
Methods
This cross-sectional study used data from the Korean College of Rheumatology Biologics & Targeted therapy registry to observe clinical outcomes of patients undergoing biologics therapy and conventional therapy. FAA was defined as ≥1 tender or swollen joint in the ankle and/or 1st-5th metatarsophalangeal (MTP) joints. Disease Activity Score 28 (DAS28), Routine Assessment of Patient Index Data 3 (RAPID3), Simplified Disease Activity Index (SDAI), and Clinical Disease Activity Index (CDAI) were assessed.
Results
Among 2046 patients, 598 had FAA. The ankle joint was the most commonly involved joint in FAA (tender joint, 71.4%; swollen joint, 59.5%), followed by the third and second MTP joints. Patients with FAA showed higher DAS28, RAPID3, SDAI, and CDAI scores. FAA presence was significantly associated with non-remission as per DAS28-ESR (odds ratio, 3.4; 95% confidence interval, 2.0–5.8), DAS28-CRP (3.6, 2.4–5.3), SDAI (6.3, 2.8–14.6), CDAI (7.6, 2.4–24.3), and RAPID3 (5.6, 2.7–11.5) indices on adjusting for age, sex, disease duration, presence of rheumatoid factor, presence of anti-cyclic citrullinated peptide antibody, lung disease, use of methotrexate, and previous use of biological disease-modifying anti-rheumatic drugs. Patients with FAA were less likely to achieve remission of SDAI (
n
 = 6, 1.0%) and CDAI (
n
 = 3, 0.5%) than that of DAS28-ESR (
n
 = 21, 3.5%), DAS28-CRP (
n
 = 38, 6.4%), and RAPID3 (
n
 = 12, 2.0%).
Conclusions
FAA represents a severe disease activity and is an independent risk factor for non-remission in patients with RA.