01.12.2018 | Research article | Ausgabe 1/2018 Open Access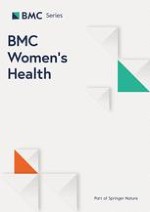 Prevalence of human papillomavirus infection among women from quilombo communities in northeastern Brazil
Zeitschrift:
Autoren:

Maria do Desterro Soares Brandão Nascimento, Flávia Castello Branco Vidal, Marcos Antonio Custódio Neto da Silva, José Eduardo Batista, Maria do Carmo Lacerda Barbosa, Walbert Edson Muniz Filho, Geusa Felipa de Barros Bezerra, Graça Maria de Castro Viana, Rebeca Costa Castelo Branco, Luciane Maria Oliveira Brito
Abstract
Background
Human papillomavirus (HPV) is a member of the
Papillomaviridae
family. The prevalence of HPV genotypes may vary according to the region and the population studied. Quilombo communities are ethnic and racial groups with difficult access to health services compared to the general population in Brazil. The aim of this study was to identify specific HPV types correlating with sociodemographic/behavioral characteristics and cervical smear cytological abnormalities in Quilombola women.
Methods
This cross-sectional study included 395 Quilombola women users of the Unified Health System of the Municipalities of Maranhão for the screening of cervical cancer. The samples were analyzed for the presence of cytological abnormalities by conventional methods and tested for 37 HPV genotypes using polymerase chain reaction with primers PGMY09/11 followed by reverse line blot hybridization performed with the
Linear Array HPV Genotyping Test
kit by Roche Molecular System®. The association between HPV types and cytological diagnosis was investigated according to the different age groups.
Results
HPV infection was detected in 12.6% (50/395) of the women. Infections by high-risk HPV types were more frequent. Genotypes 68 (26.0%); 58 and 52 (20.0%); 31 (10.0%) and 62 (8.0%) were the most prevalent. The highest prevalence (42.0%) of HPV infection occurred in women diagnosed with high-grade squamous intraepithelial lesion. There was a statistically significant association between HPV infection and the detection of cytological abnormalities in all age groups except in women over 60 years. There was a statistically significant association between the municipality of origin and the number of partners with HPV infection.
Conclusions
It is important to incorporate new cervical cancer screening techniques incorporating the cervical-vaginal cytology. For further studies, it is necessary to determine the level of knowledge of Quilombola population on health-related issues including HPV infection and cervical cancer. This will contribute to the continuous improvement of healthcare coverage among the population and enhance the implementation of cancer care in the state of Maranhão.