13.10.2018 | Original Article | Ausgabe 4/2018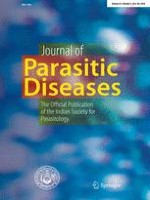 Prevalence of intestinal parasites among food handlers in Kashan, central Iran, 2017–2018
Zeitschrift:
Autoren:

Shirin Khodabakhsh Arbat, Hossein Hooshyar, Mohsen Arbabi, Majid Eslami, Batul Abani, Rezvan Poor Movayed
Abstract
The most important transmission path of intestinal parasites is the consumption of contaminated water and food. This survey was conducted to determine the prevalence of intestinal parasites among food handlers in Kashan, central Iran. This cross-sectional study was carried on 1018 food handlers who referred to the health centers in order to receive health certificate in 2017–2018. Stool samples of food handlers were collected and examined using direct and formalin-ethyl acetate methods. Results were recorded in information form along with some demographic data such as sex, age. The data were analyzed based on the tests of descriptive statistics by SPSS 16. Of the 1018 individuals examined 851 (83.6%) were men and 167 (16.4%) were female. Infection rate was 10.2% among the population and 9 types of parasites were diagnosed totally. Rate of infection to protozoan intestinal parasites were:
Blastocystis
sp. 7.17%,
Giardia duodenalis
1.2%,
Entamoeba coli
1.27%,
Endolimax nana
1.08%,
Dientamoeba fragilis
0.3%,
Iodamoeba butschlii
0.3%,
Entamoeba histolytica/E. dispar
0.2%,
Chilomastix mesnili
0.1%.
Hymenolepis nana
(0.1%) was the only intestinal worm that observed. In this investigation, 8.9% of the individual were infected by one parasite, 1.08% by two and 0.2% by 3 or more parasites. This study showed that infection to intestinal helminthic is rare among food handlers in Kashan but the prevalence of protozoan intestinal parasites is high that similar to other regions of Iran. To reduce the rate of parasitic infections and inhibition of their transmission, continuing the process of promoting the health level is recommended.