01.12.2015 | Research article | Ausgabe 1/2015 Open Access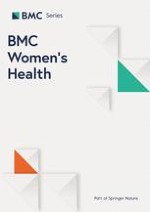 Prevalence of menopausal symptoms among mid-life women: findings from electronic medical records
Zeitschrift:
Autoren:

Matthew Sussman, Jeffrey Trocio, Craig Best, Sebastian Mirkin, Andrew G. Bushmakin, Robert Yood, Mark Friedman, Joseph Menzin, Michael Louie
Wichtige Hinweise
Competing interests
MS and JM are employees of and MF is a consultant to Boston Health Economics, Inc., who were paid consultants to Pfizer Inc. in connection with the study and the development of this manuscript. JT, SM, ML, and AB are employees of and own stock in the sponsor, Pfizer Inc. CB and RY were not funded by Pfizer Inc. for this study. The authors have no other financial or non-financial competing interests to disclose.
Authors' contributions
MS contributed to conception and design, the acquisition of data, the analysis and interpretation of data, and drafting the manuscript. JT, CB, SM, RY, MF, and ML contributed to conception and design as well as the interpretation of data. AB contributed to the analysis and interpretation of data. JM contributed to conception and design, the acquisition of data, as well as the analysis and interpretation of data. All authors contributed to revising the manuscript critically for important intellectual content. All authors read and approved the final manuscript.
Abstract
Background
To assess the prevalence of menopausal symptoms among women prescribed hormone therapy (HT) using electronic medical record data from a regional healthcare organization.
Methods
Retrospective data from the Reliant Medical Group from 1/1/2006-12/31/2011 were assessed for 102 randomly-selected patients. Study eligibility criteria included: females aged 45 to 65; prescribed oral or transdermal HT; no history of breast cancer, venous thromboembolism, stroke, gynecological cancer, or hysterectomy; continuously enrolled in the health plan for 1 year before and after the first observed HT prescription. Prevalence of menopause-related symptoms was analyzed descriptively at both the patient and visit levels.
Results
Mean age of patients was 54 years. The most common menopausal symptoms were: hot flushes (40 %), night sweats (17 %), insomnia (16 %), vaginal dryness (13 %), mood disorders (12 %), and weight gain (12 %). Among the 102 patients, 163 individual visits listing menopausal symptoms were identified, of which hot flushes (71 visits) were the most common symptom identified.
Conclusion
Our findings provide recent data on the types of menopausal symptoms experienced by mid-life women prescribed HT. Electronic medical records may be a rich source of data for future studies of menopausal symptoms in this population.