01.12.2017 | Research article | Ausgabe 1/2017 Open Access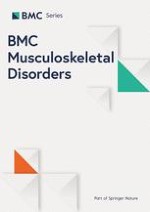 Prevalence of musculoskeletal disorders among school teachers from urban and rural areas in Chuquisaca, Bolivia: a cross-sectional study
Zeitschrift:
Autoren:

María Teresa Solis-Soto, Anabel Schön, Angel Solis-Soto, Manuel Parra, Katja Radon
Wichtige Hinweise
Electronic supplementary material
Abbreviations
ICC
Intraclass correlation coefficients
MSD
Musculoskeletal disorders
OREALC
Regional Bureau of Education for Latin America and the Caribbean
UNESCO
United Nations Educational, Scientific and Cultural Organization
Background
Working and health conditions in Latin-American and especially in Bolivian teachers have been scarcely explored. In the same way, there are few reports exploring health conditions in teachers working in rural areas. Therefore the objectives in our study were to determine the prevalence of musculoskeletal disorders considering the whole body and to compare differences between schools teachers working in rural and urban areas of Chuquisaca, Bolivia.
Methods
A cross-sectional study was conducted in Chuquisaca, Bolivia from August to November 2015.
Participants
The Bolivian educational system is organized in alternative education (adult, permanent and special education) and regular education which includes preschool, primary, secondary and higher education in public, private and semi-public schools (Public using private infrastructure). Teachers working in regular education in Chuquisaca region were the target group for this study comprising a total of 8954 teachers working in 1284 schools (Regional Education Direction Register 2014), 57% of them in rural areas.
In order to sample the teachers, a simple one-stage cluster sampling was performed including all 626 geographically accessible schools with at least 5 teachers. These schools employed about 86% of all teachers in Chuquisaca. Of these, we randomly selected 27 schools located in urban areas and 33 located in rural areas as primary sampling unit and invited all teachers working in those schools (1062) to participate in the questionnaire study.
Sample size was calculated using StatCalc-EpiInfo. An estimated prevalence for 12-months MSD of 50% was considered. In order to reach a statistical power of 80% to detect differences of 5% in the prevalence of MSD between urban and rural areas, 240 teachers in both urban and rural areas were needed.
Instruments
Validated questions to explore sociodemographic variables and working conditions at school were used from the VI National Survey of Working Conditions and Health (Spain) [
14
] and from the Working Conditions and Health Teaching Study published by the Regional Office of Education of UNESCO for Latin America and the Caribbean, OREALC/UNESCO respectively [
15
]. For the assessment of musculoskeletal disorders the Spanish version of the Standardized Nordic questionnaire was used [
16
]. It explores the 12-months, 7-days prevalence of musculoskeletal disorders or discomfort in neck, wrist or hands, shoulders, upper and low back, hips or thighs, knees and ankles or feet as well as the 12-months prevalence of work limiting pain in the same body areas. This questionnaire has been reported to be a reliable and valid screening and surveillance tool for musculoskeletal disorders (MSD) [
17
]. An English version of the questionnaire is available in Additional file
1
.
Sociodemographic information included: age (categorized into 4 groups: < 30 years, 30–39, 40–49 and ≥ 50 years), gender (male and female), and school location (rural and urban). Teaching level was grouped in exclusive primary teachers, exclusive secondary teachers and teachers working at primary and secondary level. Type of school was categorized in Public and Private (including public school with private infrastructure) considering the type of school administration where the teacher was working most hours.
To define the outcome, the following definitions were used:
12-months musculoskeletal disorder (MSD):

was considered present if self-reported ache, pain or discomfort in neck, wrist or hands, shoulders, upper and low back, hips or thighs, knees and ankles or feet during the last 12 months was reported (Separately for each part of the body)

7-days MSD:

was defined as 7-days prevalence of MSD.

12-months work limiting pain

was defined as work impediment in the last 12 months prior to survey because of MSD.
Any MSD
was considered when the teacher reported 12-months MSD in any part of the body (neck, wrist or hands, shoulders, upper and low back, hips or thighs, knees and ankles or feet) respectively. If no disorder was present in the last 12-months than also no disorder can be present in the last 7 days nor can the pain be work-limiting. The choice of the time frames was determined based in previous studies in order to explore past pain (during the last 12 months) and also current but chronic or recurrent pain (disorder reported during the last 12 months and during the last 7 days) [
16
,
18
].
The number of the parts of the body affected was computed adding up the number of places that were reported with discomfort. The range was between 0 (no body parts affected) to 8 (all body parts affected). The median value of this sum was used as cut off (≥ 3).
Procedure
The selected schools were contacted to explain the research objectives and coordinate visits. For every teacher, every school received an envelope with the questionnaire, information sheet and informed consent form. Two boxes were set up in each school, the first one to deposit the full questionnaire (in a sealed envelope), and the second one to deposit the signed informed consent form. The ID number on the questionnaire was not written on the informed consent form in order to ensure anonymity of the study. Teachers were told to note down their personal ID so that they could withdraw participation at any time.
Data analysis
As quality control a double-entry of data and congruence checking was performed EpiInfo v. 7 for Windows. Data was exported to SPSS v.17 for further analysis.
In order to check for the potential dependence of samples due to the cluster sampling, intraclass correlation coefficients (ICC) were computed to analyze the correlation of responses within the clusters (schools) for each of the outcomes [
19
]. ICC was less than 0.001 for all definitions of MSD. For that reason the analyses were not adjusted for cluster sampling.
The number of cases and period prevalence of the MSD outcomes were calculated for a general description of the study population comparing the distribution in rural and urban areas. In addition, crude (OR) and adjusted odds ratios (aOR) as well as their corresponding 95% confidence intervals (95%CI) were calculated using bivariate and multivariate logistic regression models. The models were adjusted for sociodemographic and working conditions variables which were statistically significant associated with exposure and outcome (
p
value ≤0.05) in the bivariate analysis (Table
1
).
Table 1
Description of the study population (
N
= 517)
Urban n (%)

Rural n (%)

Age (years)

< 30

25 (11.6)

67 (22.6)

< 0.01

30–39

49 (22.7)

120 (40.5)

40–49

61 (28.2)

65 (22.0)

≥ 50

81 (37.5)

44 (14.9)

Gender

Female

166 (76.5)

201 (68.4)

0.04

Male

51 (23.5)

93 (31.6)

Teaching level

Primary

120 (55.6)

124 (42.2)

< 0.01

Secondary

60 (27.8)

134 (45.6)

Primary and secondary

36 (16.7)

36 (12.2)

Type of school

Public

133 (62.7)

276 (93.2)

< 0.01

Private

79 (37.3)

20 (6.8)
Results
Discussion
This study aimed to explore self-reported musculoskeletal disorders (MSD) considering 12-months and 7-days prevalence as well as the 12-months prevalence of work limiting pain comparing teachers from urban and rural schools. Prevalence of MSD was high and especially work-limiting pain was more common in teachers employed at rural than in those working in urban schools.
Conclusions
Although prevalence of musculoskeletal disorders is considerable in school teachers in Chuquisaca, it is within the range reported previously. Teachers working in rural areas reported higher prevalence and more severe symptoms than teachers working in urban areas. It is needed to explore in-depth risk factors related to musculoskeletal disorders in this occupational group in order to propose appropriate strategies to control and reduce it. In the same way, it is important to consider surveillance systems in working conditions which include musculoskeletal disorders in teachers.
Acknowledgements
The authors would like to express special gratitude to all the study participants for their cooperation and to the Center for International Health of the University Hospital Munich (LMU) for the financial support.
Funding
This study was supported by the Network Funds 2015 through the Center for International Health of the University Hospital Munich (LMU) within the Higher Education Excellence in Development Cooperation (Exceed) program of the German Academic Exchange Service (DAAD) and the Federal Ministry for Economic Cooperation and Development (BMZ) – Germany.
Availability of data and materials
The datasets used and/or analysed during the current study are available from the corresponding author on reasonable request.
Ethics approval and consent to participate
The study was approved by the Research Ethics Committee of the medical faculty of San Simón University at Cochabamba–Bolivia. In addition, a permission to apply the questionnaire was obtained from the Regional Education Direction in Chuquisaca and the authorities of each selected school agreed on the study. International Ethical standards and procedures for research with human beings were followed to protect the dignity, rights and welfare of research participants [
36
]. An informative letter, as well as a written informed consent form was provided together with the questionnaire. Voluntary participation was respected.
Consent for publication
Not applicable
Competing interests
The authors declare that they have no competing interests.
Publisher's Note
Springer Nature remains neutral with regard to jurisdictional claims in published maps and institutional affiliations.
Open Access
This article is distributed under the terms of the Creative Commons Attribution 4.0 International License (
http://​creativecommons.​org/​licenses/​by/​4.​0/​
), which permits unrestricted use, distribution, and reproduction in any medium, provided you give appropriate credit to the original author(s) and the source, provide a link to the Creative Commons license, and indicate if changes were made. The Creative Commons Public Domain Dedication waiver (
http://​creativecommons.​org/​publicdomain/​zero/​1.​0/​
) applies to the data made available in this article, unless otherwise stated.