01.12.2015 | Original Article | Ausgabe 4/2015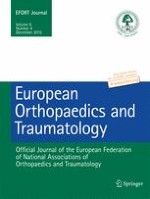 Prevalence of the different lumbar back pain etiologies in Spain: results from a large observational study in 306 centers (the SMILE study)
Zeitschrift:
Autoren:

Juan Pérez-Cajaraville, David Abejón González, Daniel Romero Esmerats, Raul Parrón Cambero, Fernando Neira Reina, Félix Ceberio Balda, Susana Traseira Lugilde
Abstract
Background
Identification of causes involved in low back pain (LBP) should contribute to improving the clinical management.
Methods
A large multicenter observational study assessing the prevalence of LBP causes in Spain. Patient-reported pain, dysfunctionality, and health-related quality of life (HQoL) outcomes after 3 months were registered by the Brief Pain Inventory Short Form (BPI-SF), Oswestry Disability Index (ODI), European Quality of Life-5 Dimensions (EQ-5D), and the Patient's Global Impression of Change (PGIC). Data analysis was also stratified by the different disciplines of care.
Results
Overall, 6436 patients were recruited mainly in traumatology, rehabilitation, rheumatology, and pain units. Mechanical pain was identified in 92.8 % of patients. Although only 30.7 % of specialists reported use of any chronic LBP characterization system on their daily practice, all patients in the study had any diagnostic test. After 3 months, significant benefits were observed in pain outcomes and functional disability, given the decrease in BPI-SF scores (6.3 vs. 3.4;
P
 < 0.001) and ODI values (51.1 vs. 28.8 %
P
 < 0.001), also in terms of improved HQoL (10.0 vs. 7.7;
P
 < 0.001) and independently of the discipline of care.
Conclusions
Despite of specialist, the study indicate a low rate of characterization system utilization and an overuse of complementary imaging in common practice but improvement in pain, patients' functionality, and HQoL.