01.12.2018 | Research article | Ausgabe 1/2018 Open Access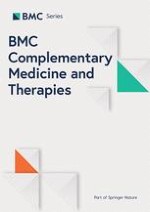 Prevalence of the potentially inappropriate Kampo medications to be used with caution among elderly patients taking any prescribed Kampo medications at a single centre in Japan: a retrospective cross-sectional study
Zeitschrift:
Autoren:

Junpei Komagamine, Kazuhiko Hagane
Abstract
Background
Few studies have investigated the prevalence and characteristics of potentially inappropriate Kampo medication use among elderly ambulatory patients taking any prescribed Kampo medications.
Methods
A retrospective cross-sectional study was conducted using electronic medical records. All patients aged 65 years or older who continued visiting internal medicine physicians and were prescribed any Kampo medications from January 2015 to March 2015 were included. The primary outcome was the proportion of patients taking any potentially inappropriate Kampo medications that should be used with caution (hereafter referred to as UWC Kampo medications). The medication appropriateness was evaluated based on the 2015 Japan Geriatrics Society guidelines.
Results
Eighty eligible patients were identified. The mean age was 76.7 years, 45 patients (56.2%) were female, the mean Charlson Comorbidity Index was 1.7, the median number of non-Kampo medications used was 5.0, and the median number of Kampo medications used was 1.0. The proportion of patients taking any UWC Kampo medications was 28.8% (95% confidence interval, 18.6 to 38.9%). Medications containing Glycyrrhizae radix for chronic kidney disease or loop diuretics were the most common UWC Kampo medications. Compared with patients who did not take any UWC Kampo medications, patients who did take such medications used aconite compositions more frequently (
p
 = 0.04) and were more likely to have uncontrolled hypertension (
p
 = 0.02) and chronic kidney disease (
p
 <  0.001). In a multivariable analysis, no predictive factors for the use of UWC Kampo medications were identified.
Conclusions
Approximately one-fourth of the elderly patients taking any prescribed Kampo medications took at least one UWC Kampo medication, although the association between UWC Kampo medications and adverse events remains unclear. When physicians prescribe medications containing Glycyrrhizae radix to elderly patients, chronic kidney disease and the use of loop diuretics should be evaluated.