03.01.2019 | Original Article | Ausgabe 2/2019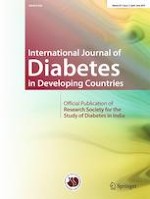 Prevalence of type 2 diabetes mellitus among adult population of District Srinagar
Autoren:

Mohd Saleem Sheikh, Imran Sayeed Sheikh, S. Muhammad Salim Khan, Shahnawaz Mir
Wichtige Hinweise
Publisher's Note
Springer Nature remains neutral with regard to jurisdictional claims in published maps and institutional affiliations.
Abstract
Over the previous 30 years, the status of diabetes has changed from being considered as a mellow issue of the elderly to one of the significant reasons for morbidity and mortality influencing the young and moderately aged individuals. The aim of the study was to estimate the prevalence of type 2 diabetes mellitus (T2DM) and impaired fasting glycemia (IFG) in the adult population, age ≥ 20 years of District Srinagar and determine its sociodemographic and lifestyle correlates. The study was conducted among the adult population of District Srinagar with a sample size of 580. A three-stage cluster random sampling design was used, and study participants were selected using a Kish grid method. Sociodemographic data, anthropometric data, and other data were collected as per the pretested semi-structured proforma. The participants were then subjected to fasting venous blood glucose estimation. The American Diabetes Association (ADA) criteria 2015 were used for classifying the subjects as normal, pre-diabetic, and diabetics. The prevalence of T2DM was 9.8% and that of IFG was 22.2%,the majority of them (9.1%) had known T2DM. The prevalence of IFG and T2DM was statistically associated with increasing age (
p
 < 0.001), marital status (
p
 < 0.001), educational status (
p
 < 0.001), high chocolates and carbonated drinks consumption (
p
 < 0.001), level of physical inactivity (
p
 < 0.05), body mass index (
p
 < 0.001), family history of T2DM (
p
 < 0.001), and smoking behavior and hypertension (
p
 < 0.001). Our analysis suggests an increase in the prevalence of T2DM in District Srinagar.