30.01.2020 | Original Article | Ausgabe 4/2020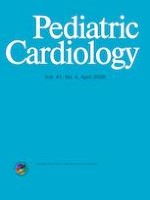 Prevalence, Risk Factors, and Impact of Obstructive Sleep Apnea in Adults with Congenital Heart Disease
Zeitschrift:
Autoren:

Marc Drake, Salil Ginde, Scott Cohen, Peter Bartz, Jane Sowinski, Emily Reinhardt, Tara Saleska, Michael G. Earing
Wichtige Hinweise
Publisher's Note
Springer Nature remains neutral with regard to jurisdictional claims in published maps and institutional affiliations.
Abstract
The objective of our study was to determine the prevalence, risk factors, and the impact of obstructive sleep apnea (OSA) in the adult with congenital heart disease (ACHD). One hundred forty-nine consecutive patients seen in our ACHD program were screened for OSA using the Berlin Questionnaire. Demographic and clinical details on subjects were collected through a chart review. Clinical variables were analyzed to determine risk factors for positive OSA screen, as well as associated outcomes. Seventy-seven (52%) of our cohort were females. The median age of the cohort was 33 years (range = 18–74) and median weight was 79 kg (range = 50–145 kg). Overall, 47 (31%) of our cohort were found to have a positive OSA screen using the Berlin questionnaire. Median age of the patients whom tested positive was 34 years. Compared to patients with a negative screen, patients with a positive OSA screen were more likely to be heavier with a median weight of 99 kg vs 71 kg (
p
 < 0.01) and a larger BMI (31 vs 25 kg/m
2
,
p
 < 0.01). Overall, 55% of patients whom screened positive were obese (defined as a BMI > 30) compared to 15% in the negative group (
p
 < 0.02). Patients with a positive screen were more likely to have other co-morbidities including diabetes (
p
 < 0.04), hypertension (
p
 < 0.05), depression (
p
 < 0.002), and were more likely to have decreased exercise capacity (
p
 < 0.01) and a defibrillator (
p
 < 0.007). Our data demonstrates that OSA is common in the ACHD patient and is associated with increasing weight and BMI. Patients with a positive screen are at increased risk for multiple co morbidities including diabetes, hypertension, and depression. We believe our data supports the use of screening protocols for OSA in the ACHD population in effort to identify early, treat, and potentially prevent late complications.