13.10.2018 | Original Article | Ausgabe 4/2018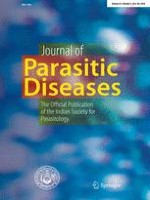 Prevalence, site and tissue preference of myxozoan parasites infecting gills of cultured fingerlings of Indian major carps in District Fatehgarh Sahib, Punjab (India)
Zeitschrift:
Autoren:

Ishtiyaq Ahmad, Harpreet Kaur
Wichtige Hinweise
Ishtiyaq Ahmad and Harpreet Kaur have contributed equally to this work.
Abstract
A study was undertaken to investigate the prevalence rate, site preference and extent of damage caused by myxosporidian parasites in Punjab, India. During the 6 months study, 600 carp fingerlings belonging to 4 genera i.e.
Labeo rohita
Hamilton,
Cirrhinus mrigala
Hamilton,
Catla catla
Thail and
Carassius carassius
were randomly collected from the polyculture nursery ponds located in different villages District Fatehgarh Sahib, Punjab. Organs such as fins, scales, gills, intestine, kidney, and eye-ball were examined for the presence of myxozoan parasites. In this study, gills of 321 (53.50%) were found to be infected with as many as 10 species of myxosporean parasites belonging to the genus
Myxobolus.
Gills were examined for the presence of plasmodia and infected organs were processed for histology. The gill plasmodial index (GPI) was counted for all the 10 species and this revealed a mild to severe infection was recorded.
M. knobii
,
M. majraiensis, M. markiwi
,
M. naini
,
M. rocatlae
,
M. vascularis
and
M. venkateshi
formed intralamellar vascular type of plasmodia (LV
1
),
M. nanokiensis
formed (LV
3
) and
M. potularis
and
M. slendrii
formed intrafilamental type of plasmodium (FV
2
). Out of 231 infected fishes, mixed infection was recorded in 44 fishes (13.70%), which exhibited biparasitism and polyparasitism. No infection was recorded in exotic carp i.e.
C. carassius
. Physicochemical parameters of water were also recorded for the period of 6 months comprising 4 months of winter and 2 months of spring. The present study indicated that the prevalence of myxozoan parasite was 43% in November (24.0 °C) and increased to 54% with the decrease in temperature (22.65 °C).