28.08.2018 | Original Article | Ausgabe 6/2018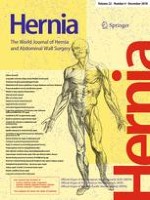 Preventative laparoscopic repair of Petersen's space following gastric bypass surgery reduces the incidence of Petersen's hernia: a comparative study
Zeitschrift:
Autoren:

C. A. Lopera, J. P. Vergnaud, L. F. Cabrera, S. Sanchez, M. Pedraza, E. E. Vinck, J. Pulido
Abstract
Introduction
Internal hernias (IH) are late complications of bariatric surgery, specifically gastric bypass and manifest with diffuse abdominal pain and/or intestinal obstruction. They have a low incidence, however, are increasingly common in patients undergoing laparoscopic gastric bypass (LGBP). Petersen's internal hernia is one of the most frequent internal hernias following Bariatric surgery.
Methods
We describe our experience at a third-level surgical center using a prophylactic Petersen's space herniorrhaphy immediately following LGBP as a preventative strategy for post-bariatric internal hernias. In addition, we perform a retrospective descriptive study with 667 patients undergoing LGBP under which we divided into two groups. In the first group, the Petersen's space was not closed, and in the second group, the Petersen´s space closure was performed using non-absorbable polypropylene non-interrupted sutures.
Results and conclusions
667 patients were taken to LGBP, and of which 5 presented internal hernias. From the 346 patients who had Petersen´s herniorrhaphy performed, one developed signs of an internal hernia at 22 months follow-up and was subsequently confirmed later with laparoscopy (0.02%). Of the 321 patients not having had Petersen's space closure, 4 developed Petersen's internal hernia at an average of 22-month post-op, incidence of 0.1%. We analyzed and compared our results with those reported in the literature. Petersen's space closure immediately after a LGBP with an alimentary loop in the anterior colic position (prophylactic herniorrhaphy) with non-interrupted non-absorbable suture is a useful, safe, and effective technique to prevent the development of Petersen's IH during the post-operative period following LGBP.