01.12.2014 | Research | Ausgabe 1/2014 Open Access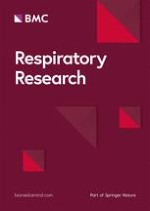 Prevention of hyperoxia-induced bronchial hyperreactivity by sildenafil and vasoactive intestinal peptide: impact of preserved lung function and structure
Zeitschrift:
Autoren:

Dorottya Czövek, Ferenc Peták, Yves Donati, Xavier Belin, Jean-Claude Pache, Constance Barazzone Argiroffo, Walid Habre
Wichtige Hinweise
Electronic supplementary material
The online version of this article (doi:
10.​1186/​1465-9921-15-81
) contains supplementary material, which is available to authorized users.
Competing interests
WH received a research grant unrelated to the present study from Maquet, Solna, Sweden. None of the other authors declare competing interests.
Authors' contributions
DC contributed to the data collection, statistical analyses analysis, web serach and manuscript writing. XB carried out the experiments. YD and J-CP participated in the histological analyses, interpretation of data and in manuscript writing. FP, CBA and WH contributed to the study design, interpretation of the data, and manuscript writing. All authors read and approved the final version of the manuscript.
Abstract
Objective
Hyperoxia exposure leads to the development of lung injury and bronchial hyperreactivity (BHR) via involvement of nitric oxide (NO) pathway. We aimed at characterizing whether the stimulation of the NO pathway by sildenafil or vasoactive intestinal peptide (VIP) is able to prevent the hyperoxia-induced development of BHR. The respective roles of the preserved lung volume and alveolar architecture, the anti-inflammatory and anti-apoptotic potentials of these treatments in the diminished lung responsiveness were also characterized.
Materials and methods
Immature (28-day-old) rats were exposed for 72 hours to room air (Group C), hyperoxia (>95%, Group HC), or hyperoxia with the concomitant administration of vasoactive intestinal peptide (VIP, Group HV) or sildenafil (Group HS). Following exposure, the end-expiratory lung volume (EELV) was assessed plethysmographically. Airway and respiratory tissue mechanics were measured under baseline conditions and following incremental doses of methacholine to assess BHR. Inflammation was assessed by analyzing the bronchoalveolar lavage fluid (BALF), while biochemical and histological analyses were used to characterize the apoptotic and structural changes in the lungs.
Results
The BHR, the increased EELV, the aberrant alveolarization, and the infiltration of inflammatory cells into the BALF that developed in Group HC were all suppressed significantly by VIP or sildenafil treatment. The number of apoptotic cells increased significantly in Group HC, with no evidence of statistically significant effects on this adverse change in Groups HS and HV.
Conclusions
These findings suggest that stimulating the NO pathway by sildenafil and VIP exert their beneficial effect against hyperoxia-induced BHR via preserving normal EELV, inhibiting airway inflammation and preserving the physiological lung structure, whereas the antiapoptotic potential of these treatments were not apparent in this process.