01.12.2019 | Research article | Ausgabe 1/2019 Open Access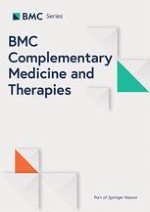 Preventive effects of a novel herbal mixture on atopic dermatitis-like skin lesions in BALB/C mice
Zeitschrift:
Autoren:

Abraham Fikru Mechesso, Seung-Jin Lee, Na-Hye Park, Jin-Yoon Kim, Zi-Eum Im, Joo-Won Suh, Seung-Chun Park
Abstract
Background
A combination of parts of
Cornus officinalis, Rosa multiflora, Lespedeza bicolor
,
Platycladus orientalis
, and
Castanea crenata
is commonly used for alleviating inflammatory skin disorders. Therefore, this study was carried out to evaluate the in vitro and in vivo preventive effects of a novel herbal formula made from the five plants (C2RLP) against atopic dermatitis in BALB/C mice.
Methods
Mice were allocated into five groups (
n
 = 8) including, control (Normal, petrolatum, and betamethasone treated) and treatment groups (treated with 2.5 and 5% C2RLP ointment). Atopic lesion was induced by applying 1-Chloro-2, 4-dinitrobenzene to the dorsal thoracic area of mice. Macroscopical and histological evaluations were performed to determine the effects of treatment on the progress of the skin lesions. The effects of treatment on the production and release of interleukins, interferon -ϒ, nitrite, prostaglandin E2, thymus and activation-receptor chemokine, and β-hexosaminidase were evaluated and comparisons were made between groups. In addition, the chemical compounds present in C2RLP were identified by Liquid Chromatography-Mass Spectrometry.
Results
Topical application of C2RLP reduced the dermatitis score and suppressed histopathological changes in mice. Treatment significantly reduced (
P
 < 0.05) plasma IL-4 level, the production of nitrite, prostaglandin E2, and thymus and activation-receptor chemokine production. The lipopolysaccharide-induced iNOS-mRNA expression in RAW 264.7 cells was also suppressed by high concentrations of C2RLP. In addition, C2RLP showed an inhibitory effect against DPPH free radical (IC
50
 = 147.5 μg/ml) and β-hexosaminidase release (IC
50
 = 179.5 μg/ml). Liquid Chromatography-Mass Spectrometry analysis revealed the presence of various compounds, including loganin, ellagic acid, and kaempferol 3-glucoside.
Conclusion
Down-regulation of T- helper 2 cellular responses and suppression of inflammatory mediators contributed to the protective effects of C2RLP from atopic dermatitis in BALB/C mice.