21.06.2017 | Original Article | Ausgabe 5/2017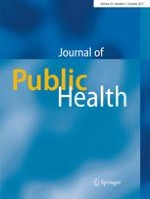 Preventive health services utilization in relation to social isolation in older adults
Zeitschrift:
Autoren:

Maria Vozikaki, Manolis Linardakis, Anastas Philalithis
Abstract
Purpose
The current study aims to examine the utilization of preventive health services in relation to social isolation among older Europeans adults.
Methods
Data on 5,129 adults 65 years of age and older was obtained from the first wave of the Survey of Health, Ageing and Retirement in Europe (SHARE, 2004/05). Prevalence of social isolation indicators (living arrangements, marital status, number of children, contact with children, proximity to children, activity participation, social exchange) was assessed in relation to preventive health services utilization, which was ascertained by a 12-item composite score (PHSUs). Estimations were based on the complex study design.
Results
Diverse facets of social isolation were differently associated to preventive care. Significantly lower mean PHSUs were found for adults living unpartnered, who were unmarried, had no children and were socially disengaged. A similar pattern was thus drawn regarding the clustering of social isolation indicators (4+). Considerable variations were detected across SHARE countries in the distribution of PHSUs among socially isolated adults.
Conclusion
Socially isolated individuals were found to receive fewer preventive services. This finding confers important evidence on the potential factors that affect the use of preventive health services among older adults. It is also suggestive of the need to develop public health and social policies with the aim to alleviate social isolation and as a means to enhance preventive care uptake in later life.