01.12.2017 | Research | Ausgabe 1/2017 Open Access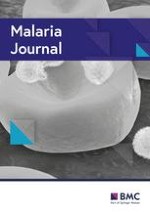 Primaquine-thiazolidinones block malaria transmission and development of the liver exoerythrocytic forms
Zeitschrift:
Autoren:

Anna Caroline C. Aguiar, Flávio Jr. B. Figueiredo, Patrícia D. Neuenfeldt, Tony H. Katsuragawa, Bruna B. Drawanz, Wilson Cunico, Photini Sinnis, Fidel Zavala, Antoniana U. Krettli
Wichtige Hinweise
Electronic supplementary material
The online version of this article (doi:
10.​1186/​s12936-017-1755-6
) contains supplementary material, which is available to authorized users.
Abstract
Background
Primaquine is an anti-malarial used to prevent
Plasmodium vivax
relapses and malaria transmission. However, PQ metabolites cause haemolysis in patients deficient in the enzyme glucose-6-phosphate dehydrogenase (G6PD). Fifteen PQ-thiazolidinone derivatives, synthesized through one-post reactions from primaquine, arenealdehydes and mercaptoacetic acid, were evaluated in parallel in several biological assays, including ability to block malaria transmission to mosquitoes.
Results
All primaquine derivatives (PQ-TZs) exhibited lower cell toxicity than primaquine; none caused haemolysis to normal or G6PD-deficient human erythrocytes in vitro. Sera from mice pretreated with the test compounds thus assumed to have drug metabolites, caused no in vitro haemolysis of human erythrocytes, whereas sera from mice pretreated with primaquine did cause haemolysis. The ability of the PQ-TZs to block malaria transmission was evaluated based on the oocyst production and percentage of mosquitoes infected after a blood meal in drug pre-treated animals with experimental malaria caused by either
Plasmodium gallinaceum
or
Plasmodium berghei;
four and five PQ-TZs significantly inhibited sporogony in avian and in rodent malaria, respectively. Selected PQ-TZs were tested for their inhibitory activity on
P. berghei
liver stage development, in mice and in vitro, one compound (4m) caused a 3-day delay in the malaria pre-patent period.
Conclusions
The compound 4m was the most promising, blocking malaria transmissions and reducing the number of exoerythrocytic forms of
P. berghei
(EEFs) in hepatoma cells in vitro and in mice in vivo. The same compound also caused a 3-day delay in the malaria pre-patent period.