01.12.2017 | Case report | Ausgabe 1/2017 Open Access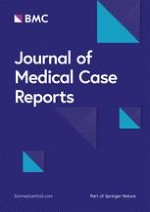 Primary Burkitt lymphoma of the supraglottic larynx: a case report and review of the literature
Zeitschrift:
Autoren:

Alexandra E. Quimby, Lisa Caulley, Danielle Rodin, Bibianna Purgina, Libni Eapen, Luke Shier, Stephanie Johnson-Obaseki
Abbreviations
CD
Cluster of differentiation
EBER
Epstein–Barr virus-encoded small RNA
MALT
Mucosa-associated lymphoid tissue
WHO
World Health Organization
Background
Burkitt lymphoma is a high-grade B cell lymphoma that was first described by Denis Burkitt in the mid-twentieth century as an aggressive malignancy of the mandible in African children [
1
]. The World Health Organization (WHO) classifies Burkitt lymphoma as endemic, sporadic, or immunodeficiency-associated, based on underlying mechanisms of cancer formation. Endemic Burkitt lymphoma is that which occurs in African children, and is almost always associated with Epstein–Barr virus (EBV) infection. Sporadic Burkitt lymphoma refers to cases occurring worldwide with no specific geographic distribution, and accounts for 1 to 2% of adult lymphoma cases in the USA and Western Europe [
2
–
4
]. Tumor cells are EBV-positive in only 15 to 30% of cases of sporadic Burkitt lymphoma occurring in the USA [
5
]. Sporadic Burkitt lymphoma primarily involves lymph nodes in the abdomen, although occasionally occurs extranodally in the ovaries and kidneys and less frequently presents in the head and neck as cervical adenopathy. Extranodal head and neck presentations account for less than 10% of all cases of sporadic Burkitt lymphoma [
6
]. Rarely, Burkitt lymphoma develops secondary to prior irradiation, with only a few previous cases having been reported in the literature [
7
].
We present the case of a 90-year-old woman who was diagnosed with Burkitt lymphoma of the supraglottic larynx following radiation for a previous Hodgkin lymphoma. This is a rare extranodal head and neck presentation of Burkitt lymphoma, particularly in light of the patient's advanced age and her previous radiation treatment for Hodgkin lymphoma.
Case presentation
A 90-year-old white woman presented with a large neck mass and a 6-week history of increasing dysphonia, stridor, and left-sided otalgia. On examination, there was a firm 2×3 cm left-sided level III neck mass with no overlying skin changes. Flexible fiberoptic nasolaryngoscopy revealed a large exophytic mass with complete airway obstruction. A computed tomography (CT) scan revealed the mass to measure approximately 3.3×3.7×3.1 cm. It was shown to involve her left supraglottic larynx and extend down to at least the level of her glottis (Fig.
1
).
×
Eight years earlier, she was diagnosed as having primary Hodgkin lymphoma in a left cervical node. Pathology of the node revealed large atypical cells, Reed–Sternberg cells, and a fine reticular sclerosis pattern. Immunophenotyping performed on a paraffin block demonstrated positive staining of the large atypical cells with cluster of differentiation (CD) 15 and CD30. The stains were negative for leukocyte common antigen (LCA), CD20, EBV-encoded small ribonucleic acid (RNA) (EBER). She was classified as Stage 1A classical Hodgkin lymphoma, mixed cellularity type, which was a rare diagnosis at age 82. Due to her localized disease, she was treated with definitive radiotherapy at a dose of 3500 cGy in 20 fractions delivered over 4 weeks.
Her past medical history was otherwise significant for a left hip fracture and surgical repair 1 year earlier, as well as mild cognitive decline, with difficulties in sequencing, planning, memory, attention, and insight. Due to her cognitive status, she was reliant on family members for many of her daily activities.
Following presentation, she underwent an emergency awake tracheostomy with laryngoscopy and biopsy of the supraglottic tumor. Microscopic examination revealed infiltrating sheets of poorly differentiated lymphoid cells with round nuclei containing several small nucleoli and dispersed chromatin and a small amount of amphophilic cytoplasm (Fig.
2
). A high mitotic rate and a "starry sky" appearance, due to numerous tingible body macrophages, were noted. An extensive immunohistochemical panel was performed and the tumor cells were immunoreactive for CD20, BCL6, PAX 5, c-myc, and EBER (Fig.
2
). Ki-67, a proliferation index marker, highlighted almost 100% of cells (Fig.
2
). BCL2 was negative. Fluorescence
in situ
hybridization was performed and demonstrated the confirmatory
myc
rearrangement. The final histopathological diagnosis was a non-Hodgkin, B cell lymphoma of Burkitt type. This was distinct from her previous diagnosis of Hodgkin lymphoma 8 years prior.
×
This case was reviewed at a multidisciplinary tumor board to determine the appropriate course of management. She was not deemed a candidate for systemic therapy in light of her age and functional status. She underwent a 7-day course of high-dose prednisone (100 mg daily) before starting palliative radiation at a dose of 3600 cGy in 18 fractions. She subsequently developed mucositis, and was treated palliatively for symptom control. She had recurrent aspiration and developed bacteremia secondary to aspiration pneumonia for which she opted to forgo antibiotics. She died approximately 3 months following her initial presentation, before a repeat laryngeal examination could be conducted.
Discussion
Conclusions
Burkitt lymphoma is a B cell NHL with an extremely fast rate of growth, necessitating prompt diagnosis. Sporadic Burkitt lymphoma occasionally presents extranodally in the head and neck, although the most common head and neck presentation is cervical adenopathy. Rarely, radiation therapy has been linked to the subsequent development of Burkitt lymphoma. This case report describes a rare presentation of Burkitt lymphoma of the larynx in a 90-year-old patient previously irradiated for Hodgkin lymphoma. It represents the first reported case of Burkitt lymphoma in the larynx, and only the second described case of irradiation-induced Burkitt lymphoma occurring in the head and neck. It highlights the need to maintain a broad differential in the assessment of malignancies of the larynx, particularly in the context of a prior history of radiation treatment. Biopsy is a necessary step in the diagnosis of Burkitt lymphoma and in subsequent treatment planning, including selection of an appropriate chemotherapeutic regimen. When detected early, Burkitt lymphoma has a favorable prognosis and high remission rates. However, high tumor burden, advanced age, and poor functional status are associated with disease progression. In advanced stage or chemoresistant disease, there is good evidence that radiotherapy provides local symptom control.
Acknowledgements
Not applicable.
Funding
The authors have no funding to declare.
Availability of data and materials
The data that support the findings of this study are available from The Ottawa Hospital but restrictions apply to the availability of these data, which were used under license for the current study, and so are not publicly available. Data are, however, available from the authors upon reasonable request and with permission of The Ottawa Hospital.
Authors' contributions
AQ participated in the design of the study, acquired data, performed a literature review, and drafted the manuscript. LC conceived the study, participated in its design and coordination, acquired data, and helped to draft and edit the manuscript. DR participated in the design of the study and edited the manuscript. SJ participated in the design of the study and edited the manuscript. BP acquired data, participated in the design of the study, and edited the manuscript. LS acquired data, participated in the design of the study, and edited the manuscript. LE acquired data, participated in the design of the study, and edited the manuscript. All authors read and approved the final manuscript.
Competing interests
The authors declare that they have no competing interests.
Consent for publication
Written informed consent was obtained from the patient for publication of this case report and any accompanying images. A copy of the written consent is available for review by the Editor-in-Chief of this journal.
Ethics approval and consent to participate
The need for ethics approval was waived.
Open Access
This article is distributed under the terms of the Creative Commons Attribution 4.0 International License (
http://​creativecommons.​org/​licenses/​by/​4.​0/​
), which permits unrestricted use, distribution, and reproduction in any medium, provided you give appropriate credit to the original author(s) and the source, provide a link to the Creative Commons license, and indicate if changes were made. The Creative Commons Public Domain Dedication waiver (
http://​creativecommons.​org/​publicdomain/​zero/​1.​0/​
) applies to the data made available in this article, unless otherwise stated.