01.12.2015 | Research article | Ausgabe 1/2015 Open Access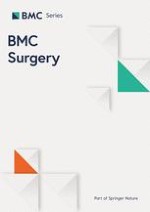 Primary flap reconstruction of tissue defects after sarcoma surgery enables curative treatment with acceptable functional results: a 7-year review
Zeitschrift:
Autoren:

Jenny Fabiola López, Kristiina Elisa Hietanen, Ilkka Santeri Kaartinen, Minna Tellervo Kääriäinen, Toni-Karri Pakarinen, Minna Laitinen, Hannu Kuokkanen
Wichtige Hinweise
Competing interests
The authors declare that they have no competing interests.
Author' contributions
JL and KH participated in the chart review, data collection, and statistical analysis. JL, IK, and HK designed the study and drafted the manuscript. MK, TK-P, and ML created the study plan and main study points, participated in the study design and coordination, and helped to draft the manuscript. All authors read and approved the final manuscript.
Abstract
Background
Sarcomas, a heterogeneous group of tumors, are challenging to treat and require multidisciplinary cooperation and planning. We analyzed the efficacy of flap reconstruction in patients with bone and soft tissue sarcoma.
Methods
Patient charts and operative records were retrospectively reviewed from January 2006 through October 2013 to identify sarcoma patient characteristics, postoperative complications, revisions, recurrences, and survival. Pedicled and/or free flap reconstruction was performed in 109 patients. Flap selection was based on defect size, and exposure of anatomically critical structures or major orthopedic implants.
Results
Of 109 patients, 71 (65.1 %) were men, and mean age was 56.4 years. Tumors most frequently located in a lower extremity (38.7 %). Primary sarcomas comprised 79.2 % and recurrences occurred in 18.9 %. Wide resection was performed for 65.7 %, and there were 10 planned amputations combined with flap reconstruction. A total of 111 tumors received 128 flaps: 76 pedicled flaps, 42 free flaps, and 5 combined (10 total) pedicled + free-flaps. The success rate was 94 % for the pedicled flap group, 97 % for the free-flap group, and 100 % for the pedicle + free-flap group. Of 35 patients, 5 developed deep prosthetic infections. Only one amputation due to disease progression was performed. Satisfactory functional outcome was achieved in 69 %. Survival rate during a mean (standard deviation) 3(2) year follow-up was 83.5 %.
Conclusions
Primary flap reconstruction after sarcoma surgery satisfies oncologic goals. Large tumors in difficult areas can be removed and complete tumor resection achieved. Our findings indicate a high survival rate after sarcoma surgery utilizing flap reconstruction and a low recurrence rate.