01.12.2012 | Case report | Ausgabe 1/2012 Open Access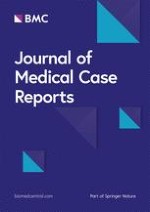 Primary glioblastoma of the cerebellum in a 19-year-old woman: a case report
Zeitschrift:
Autoren:

Moulay Rachid El El Maaqili, Adil Hossini, Nizar El Fatemi, Rachid Gana, Amar Saïdi, Mohammed Jiddane, Fouad Bellakhdar
Wichtige Hinweise
Electronic supplementary material
The online version of this article (doi:
10.​1186/​1752-1947-6-329
) contains supplementary material, which is available to authorized users.
Competing interests
The authors declare that they have no competing interests.
Authors' contributions
AH wrote and revised the manuscript and provided comments. MJ prepared the figures and provided comments. AS prepared the biopsy and provided comments. My R El M revised the manuscript and provided comments. NF revised the manuscript and provided comments. RG revised the manuscript and provided comments. FB revised the manuscript and provided comments. All authors read and approved the final manuscript
Abbreviations
HES
Hematoxylin and eosin stain
MRI
Magnetic resonance imaging.
Introduction
Glioblastoma multiforme (GBM) is the most common primary brain tumor in adults. It usually affects the cerebral hemispheres, and the peak age of onset is the sixth or seventh decade of life[
1
]. Cerebellar glioblastoma is a rare adult tumor. To the best of our knowledge, only a few cases have been reported[
2
,
3
]. The tumor represents 0% to 3.4% of primary GBMs[
4
,
5
]. In this case report, we present a case of primary cerebellar glioblastoma and discuss the physiopathology, clinical presentation, diagnosis, treatment, and general outcomes of this disease.
Case presentation
A 19-year-old Moroccan woman without any other medical history was admitted to our hospital with a two-month history of intracranial pressure with nausea, vomiting, and headache. A neurologic examination showed cerebellar signs, including cerebellar ataxia, dysmetria, and dysdiadochokinesia. The fundus oculi showed bilateral papillary edema. A cerebral computed tomography (CT) scan showed two lesions: one in the right cerebellar hemisphere and the other in the vermis. The lesions were spontaneously hypodense with a peripheral heterogeneous enhancement after contrast injection and mass effect on the fourth ventricle (Figures 
1
and
2
). Cranial magnetic resonance imaging (MRI) showed irregular contours of mass lesions. The processes were heterogeneous on T1- and T2-weighted images and this can be related to a subacute intratumoral hemorrhage with discrete surrounding edema. After gadolinium was administered, the lesion was 3×4cm in size and had heterogeneous ring enhancement and a central necrotic area (Figures 
3
,
4
, and
5
).
×
×
×
×
×
Our patient first had a ventriculoperitoneal shunt. On the second day, a suboccipital craniotomy was performed while our patient was in the prone position. After opening of the dura mater and corticectomy, the lesion was white, infiltrative, crumbly, and not very hemorrhagic, had no planes of cleavage, and had indistinct margins from adjacent normal white matter. A subtotal tumor resection was performed. A histopathological examination revealed a cellular tumor, which was consistent with glioblastoma (that met the World Health Organization criteria of grade 4 astrocytoma) and which was composed of elongated spindle-shaped cells with irregular, moderately pleomorphic and giant nuclei, and proliferative blood vessels and necrosis (hematoxylin and eosin stain (HES) ×100 and HES ×400). Immunohistochemistry was accomplished by means of the 3-amino-9-ethylcarbazole (AEC) peroxydase method and antigenic restoration, showing a marking of tumor cells with anti-GFAP (anti-glial fibrillary acidic protein) antibodies (Figures 
6
and
7
).
×
×
The post-operative course was uneventful, and the neurologic signs gradually improved. Our patient received post-operative radiotherapy to the posterior cranial fossa. There was no tumor recurrence after 12 months.
Discussion
Conclusions
Cerebellar GBM is rare and should be considered in the differential diagnosis of a cerebellar mass lesion. MRI can facilitate the characterization of the lesions and the differential diagnosis, particularly from metastases. Aggressive surgical treatment along with radiation therapy remains the established management strategy.
Consent
Written informed consent was obtained from the patient for publication of this case report and any accompanying images. A copy of the written consent is available for review by the Editor-in-Chief of this journal.
Competing interests
The authors declare that they have no competing interests.
Authors' contributions
AH wrote and revised the manuscript and provided comments. MJ prepared the figures and provided comments. AS prepared the biopsy and provided comments. My R El M revised the manuscript and provided comments. NF revised the manuscript and provided comments. RG revised the manuscript and provided comments. FB revised the manuscript and provided comments. All authors read and approved the final manuscript