01.12.2017 | Case Report | Ausgabe 1/2017 Open Access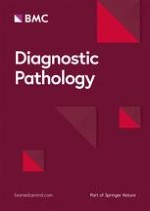 Primary paranasal sinus hyalinizing clear cell carcinoma: a case report
Zeitschrift:
Autoren:

Batool M. AlAli, Mohammed J. Alyousef, Ahmad Salah Kamel, Mohammad A. Al hamad, Mohammad H. Al-Bar, Roaa M. Algowiez
Abbreviations
CCOC
Clear cell odontogenic carcinoma
EMA
Epithelial membrane antigen
ENT
Ear, nose and throat clinic
HCCC
Hyalinizing clear cell carcinoma
WHO
World health organization
Background
Hyalinizing clear cell carcinoma (HCCC), which is classified by the World Health Organization (WHO) as "Clear cell carcinoma, NOS" [
1
], is a rare low-grade salivary gland neoplasm with characteristic clear cells arranged in nests and cords embedded within a hyalinizing stroma. Most of the reported cases of HCCC arise from the minor salivary glands within the oral cavity, with base of the tongue and palate being the most common sites [
2
,
3
]. HCCC of paranasal sinuses is an extremely rare tumour, and up to the best of our knowledge, only three cases have been reported in the English literature [
4
,
5
] (Table
1
). Herein, we report a case of HCCC arising primarily in paranasal sinuses in a 63-year-old woman. The diagnosis was molecularly confirmed with
EWSR1
gene rearrangement.
Table 1
Reported cases of paranasal sinus HCCC
Author

Location

Age (Years)

Gender

EWSR/Rearrangement

Treatment

Follow up

Davina Stasia Teo et al. (2015) [

4

]

Right ethmoid sinus extending into the nasal cavity.

69

Male

Unknown

Surgical excision

No recurrence after 10 months

Jui Lan et al. (2017) [

5

]

Right maxillary sinus.

48

Male

Positive

Surgical excision

No recurrence after 9 months

Jui Lan et al. (2017) [

5

]

Right maxillary sinus.

80

Male

Positive

Surgical excision + radiotherapy

Not provided

Present case

Left ethmoid/posterior maxillary sinuses.

63

Female

Positive

Surgical excision + radiotherapy

No recurrence after 4 months
Case presentation
A 63-year-old lady was referred from ER to the ENT department, complaining of recurrent epistaxis episodes for the past 4 years. She also has history of left sided nasal obstruction, facial pressure, yellowish nasal discharge, protrusion of left eye and anosmia. She gave history of weight loss of around 7 kg in the past 3 months associated with decrease of appetite.
Bilateral nasal endoscopic examination showed a mass that easily bleeds on touch, filling the left nasal cavity and pushing the nasal septum to the other side.
Computed tomography scan (CT) revealed a destructive mass in the left ethmoid/posterior maxillary and sphenoid sinus extending to the nasal cavity. It measured 4 × 4.5 × 6 cm, with extension posteriorly to involve the anterior superior border of the clivus, invading towards the pterygoid bone and reaching the carotid canal (Fig.
1a and b
). MRI showed dural thickening lateral to the optic nerve on the left side but no clear intracranial neither periorbital extension. CT scan of chest, abdomen and pelvis were unremarkable for primary or metastatic tumour.
×
The tumour was treated with surgical excision; however, complete removal was not possible due to attachment to the optic nerve and carotid sheath. Post-operative radiotherapy was administrated.
Multiple soft/tan and bone fragments were received for histological examination. Frozen section was performed for diagnosis and evaluation of margin status. The frozen section diagnosis was reported as "Malignant epithelial neoplasm with prominent clear cell change". The tumour was extending to the resection margins.
Resected tissues were then fixed in 10% buffered formalin and embedded in paraffin. Permanent hematoxylin and eosin (H&E) sections revealed an infiltrative tumour with extensive bone destruction. The tumour consisted of polygonal to round cells arranged in nests and separated by fibrocellular and hyalinized fibrous septa. Most of the cells had a clear cytoplasm while few cells exhibited eosinophilic cytoplasm especially at the periphery of the tumour. The nuclei were round, uniform and centrally located with inconspicuous nucleoli. Mitotic figures and necrosis were not present. Perineural and lymph-vascular invasion were noted (Fig.
2a-c
).
×
The differential diagnosis based on the H&E included squamous cell carcinoma with clear cell changes, mucoepidermoid carcinoma with prominent clear cell change, metastatic renal cell carcinoma and HCCC.
Immunohistochemically, the tumour cells stained positive for EMA, CK5/6 (Fig.
2d
), CEA and p63 and were negative for PAX-8, RCC, CK7, SMA and S-100 protein.
FISH analysis of
EWSR1
breakapart probe on paraffin-embedded tumour tissue showed evidence of a 22q12 rearrangement in 164 out of 200 (82%) of interphase nuclei scored (Fig.
2e
).
The histological, immunohistochemical and molecular findings were consistent with primary hyalinizing clear cell carcinoma of the paranasal sinuses.
On follow-up, the patient showed no evidence of disease 4 months after the surgery.
Discussion and conclusions
In summary, we report a case of HCCC involving paranasal sinuses primarily and describe its clinical, histopathologic, immunophenotypic, and molecular cytogenetic features. Tumour cell positivity for p63, CK5/6, PAS and negativity for PAX-8, RCC, mucicarmine and PAS-D exclude mucoepidermoid carcinoma, tumours of myoepithelial origin and metastatic renal cell carcinoma.
Acknowledgements
Not applicable.
Funding
The authors declare that this paper was not financially supported.
Availability of data and materials
All data generated or analyzed during this study are included in this published article.
Authors' information
Not applicable.
Ethics approval and consent to participate
Not applicable.
Consent for publication
Written informed consent for publication was obtained from the patient.
Competing interests
The authors declare that they have no competing interests.
Publisher's Note
Springer Nature remains neutral with regard to jurisdictional claims in published maps and institutional affiliations.
Open Access
This article is distributed under the terms of the Creative Commons Attribution 4.0 International License (
http://​creativecommons.​org/​licenses/​by/​4.​0/​
), which permits unrestricted use, distribution, and reproduction in any medium, provided you give appropriate credit to the original author(s) and the source, provide a link to the Creative Commons license, and indicate if changes were made. The Creative Commons Public Domain Dedication waiver (
http://​creativecommons.​org/​publicdomain/​zero/​1.​0/​
) applies to the data made available in this article, unless otherwise stated.