18.04.2019 | Leitthema | Ausgabe 5/2019 Open Access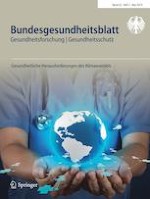 Priorities for protecting health from climate change in the WHO European Region: recent regional activities
Autoren:

PhD Dr. med. Vladimir Kendrovski, Oliver Schmoll
Introduction
Health impacts of climate change and variability are being observed: direct impacts result through temperature increases, heat waves, storms, forest fires, floods and droughts. Indirect impacts are mediated through the effects of climate change on biodiversity, vectors distribution, allergens, ecosystems and productive sectors, such as agriculture, water and food supplies.
The WHO Regional Office for Europe works with the Member States to generate evidence, develop supporting tools and to identify best policy options to minimize the health effects of climate change. The aim of this article is to support the communication and implementation of existing global and regional commitments and priorities to protect health from the adverse effects of climate change.
Climate change is a matter of public health
Global and regional policy frameworks for climate action and health
An important aspect of tackling challenges around health and climate change is establishing mechanisms to monitor health impacts and setting targets to reduce these. Several international policy frameworks and platforms are in place (Table
1
); these stipulate a clear mandate to foster stronger engagement of the health sector with climate change adaptation and mitigation.
Table 1
International policy frameworks for climate action and health
Framework

Description

Paris Agreement on Climate Change under the United Nations Framework Convention on Climate Change (UNFCCC) [

25

]

The Paris Agreement on Climate Change sets an overall framework for intergovernmental efforts to tackle the challenge posed by climate change. Under the UNFCCC process, it is the first universal, legally binding global deal to combat climate change and adapt to its effects

2030 Agenda for Sustainable Development [

26

]

This agenda defines 17 sustainable development goals (SDGs) and 169 targets focusing on people, planet, prosperity, peace and partnership. Health is central to the three dimensions (social, environmental and economic) of sustainable development and to measuring its progress. The SDGs support the need for early warning and disaster risk reduction systems, adaptation to climate change, strengthened resilience, adequate facilities and infrastructure and appropriate policies

Sendai Framework for Disaster Risk Reduction 2015–2030 [

27

]

This framework was adopted by representatives from 187 United Nations Member States in March 2015. As disaster risk reduction generally aims to prevent new and reduce existing disaster risk and to manage residual risk, it contributes to strengthening resilience and therefore to the achievement of sustainable development. Four of the seven Sendai Framework global targets have direct links to health, focusing on reducing mortality, increasing population well-being, improving early warning systems and promoting the safety of health facilities and hospitals

Sixth Ministerial Conference on Environment and Health [

28

]

The conference took place in Ostrava, Czech Republic, in 2017 and brought together health and environment ministers and high-level representatives of Member States in the WHO European Region. They committed to strengthening and promoting actions to improve the environment and health at the international, national and sub-national levels through the Ostrava Declaration. According to this declaration, by enhancing national implementation, countries will develop national portfolios of action on environment and health by the end of 2018, as standalone policy documents or parts of others, respecting differences in countries' circumstances, needs, priorities and capacities. The portfolios should draw on Annex 1 to the Declaration, which is a compendium of possible actions to facilitate its implementation, focusing on the seven priority areas, including climate change and health [

29

]

The Protocol on Water and Health to the Convention on the Protection and Use of Transboundary Watercourses and International Lakes (Water Convention) [

30

]

Adopted in 2005, the protocol is the first legally binding multilateral agreement to ensure safe drinking water and sanitation in the WHO European Region. Its goal is to protect human health and well-being through improved water resource management and by prevention, control and reduction of water-related diseases, as well as detection, contingency planning and response to outbreaks. A key priority of the protocol's programme of work is building climate-resilient water and sanitation services

World Health Assembly Resolution WHA61.19 on climate change and health [

31

]

All Member States in the WHO European Region, including the 28 EU countries, approved Resolution WHA61.19 in 2008, which urges countries to:

Include health measures in adaptation plans

Build technical, strategic and leadership capacity in the health sector

Strengthen capacity for preparedness for and response to natural disasters

Promote active cross-sectoral engagement in the health sector

Express commitment to meeting the challenges of climate change, and guide planning and investments

Thirteenth general programme of work 2019–2023 (GPW13) [

32

]

GPW13 sets out WHO's strategic direction towards improving the health of the world over the coming 5 years. It highlights the importance of addressing climate change and health, specifically in small island developing states and other vulnerable settings, and of strengthening cross-sectoral collaboration towards health in all policies
Since 1999, with the adoption of the Declaration of the Third Ministerial Conference on Environment and Health held in London, United Kingdom [
33
], Member States of the WHO European Region have been committed to action towards mitigation of and adaptation to climate change.
Health in climate change adaptation
Governance mechanisms on climate change and health improved between 2012 and 2017. In 2012, already 96% of responding countries had established a multisectoral committee on climate change whose primary role is to coordinate actions and policies for both adaptation and mitigation, including relevant health aspects. In 2017, all responding countries confirmed the existence of such a governmental body.
In 2012, 83% of responding countries reported that they had taken actions towards strengthening public health capacities and health systems to cope with impacts of climate change; at 85% in 2017, this figure remained almost unchanged. The examples of measures taken by Member States to improve health systems included strengthened early-warning systems and responses, infectious disease surveillance, as well as improved water and sanitation services.
The health sector therefore needs to lead adaptation planning for health, working with other sectors to achieve health benefits.
Health in climate change mitigation
Most measures and policies to reduce GHG emissions can benefit human health, if adequately designed and implemented. Carbon-cutting policies that are known to provide health benefits include those that reduce emissions of health-damaging pollutants through changes in energy production, energy efficiency, sustainable transportation and control of landfills, among others.
Conclusions
The protection of health from the effects of climate change has developed from a niche topic to high-level policy attention, as reflected in international agreements such as the Paris Agreement and the 2030 Agenda for Sustainable Development. Increasingly, the call to integrate health into all policies and the need to consider climate change in all policies are being recognized and implemented. Understanding and awareness of health risks from climate change is growing fast within the health community; this needs to be reflected as core elements in training and career development for health professionals. Capacity-building is supported through the setting of norms and standards, the development of technical guidance and training courses and the mainstreaming of climate change and health topics into medical and public health training.
The health sector can support and inform policy-making towards the full potential of healthy mitigation through intersectoral action, advocacy, health impact assessment, identifying health co-benefits and win–win policy options and leading by example in reducing its own carbon emissions.
WHO aspires, among others, to support national, regional and global advocacy, provide evidence through country profiles and business cases for investment, ensure technical and capacity-building support for implementation and support climate-resilience, energy and water access in health care facilities. The WHO thirteenth general programme of work (GPW13) is woven around three strategic priorities, each setting a goal of 1 billion people and collectively known as the "triple billion" goal. These include: 1 billion more people benefiting from universal health coverage, 1 billion more people better protected from health emergencies and 1 billion more people enjoying better health and well-being. GPW13 highlights the importance of addressing climate change and health, specifically in small island developing states and other vulnerable settings, and of strengthening cross-sectoral collaboration towards health in all policies. To this end, WHO aims "to ensure that health systems become resilient to extreme weather and climate-sensitive disease" and "to help countries to ensure that global carbon emissions are falling so as to bring health 'co-benefits'" by 2030 [
32
].
The draft WHO global strategy on health, environment and climate change, which is to be considered by the Seventy-second World Health Assembly in May 2019, aims to support GPW13 in providing a vision and way forward on how the world and its health community can respond to environmental health and climate change risks and challenges up to 2030 [
42
]. In the WHO European Region for the priority area of climate change and health, the Ostrava Declaration on Environment and Health calls upon "countries to strengthen adaptive capacity and resilience to climate change-related health risks, to support measures to mitigate climate change and to achieve health co-benefits in line with the Paris Agreement". To achieve these objectives and planned ones in the forthcoming strategy, countries can include in their national portfolios some proposed actions listed in Table
2
.
Strategic objectives for the transformation needed outlined in the draft WHO global strategy on health, environment and climate change strategy

Possible actions to advance the implementation of the Ostrava Declaration

Primary prevention: to scale up action on health determinants for health promotion and protection in the 2030 Agenda for Sustainable Development, including on the drivers of environmental risks to health

To develop and implement a national strategy or action plan for public health adaptation to climate change as an independent policy or within wider national adaptation policies, as well as natural disaster risk reduction policies

Cross-sectoral action: to address determinants of health in policies in all sectors and ensure healthy energy, transport and other health-determining transition to gain the health co-benefits of environmental protection

To assess climate change risks to health in relevant national policies, strategies and plans

Strengthened health sector: to strengthen health sector leadership, governance and coordination roles in working together with other sectors with relevance to health, environment and climate change

To include, on a voluntary basis, health considerations within Member States' commitments to the UNFCCC

Building support: to build mechanisms for governance as well as political and social support, including multilateral and other high-level agreements that tackle major driving forces and global threats, such as climate change

To consider climate change adaptation and mitigation in the development of specific environment and health policies, such as those on air quality, water and sanitation and others, bearing in mind that the cornerstones of adaptation include proper health protection infrastructure and housing standards

Enhanced evidence and communication: to generate the evidence base on risks and solutions, and to efficiently communicate that information to guide choices and investments

To strengthen natural risk reduction policies and early warning surveillance and preparedness systems for extreme weather events and climate-sensitive disease outbreaks

Monitoring: to guide actions by monitoring progress towards the SDGs

To develop information, tools and methodologies to support authorities and the public to increase their resilience against extreme weather and climate health risks

To include the health aspects of climate change in education curricula, non-formal education and workforce continuing professional education

To scale up public communication and awareness-raising campaigns on climate change and health

To conduct or update national health vulnerability, impact and adaptation assessments of climate change

To support research on the effectiveness, cost and economic implications of climate change and health interventions, with a particular focus on mutual co-benefits
The health community should be fully engaged in the national intersectoral mechanisms for adaptation to climate change, including contributing to the development of the health components of national adaptation plans, of nationally determined contributions to the UNFCCC and of the national SDG implementation plans.
Vladimir Kendrovski and Oliver Schmoll are staff members of the World Health Organization (WHO) Regional Office for Europe. The authors alone are responsible for the views expressed in this article and they do not necessarily represent the decision or stated policy of the World Health Organization.
Acknowledgements
The work was conducted in the context of a joint WHO/EC project with funding from the European Commission under grant agreement: "Addressing the impacts of climate change on health" (34.0202/2016/741645/SUB/CLIMA.A3).
Compliance with ethical guidelines
Conflict of interest
V. Kendrovski and O. Schmoll declare that they have no competing interests.
For this article no studies with human participants or animals were performed by any of the authors. All studies performed were in accordance with the ethical standards indicated in each case.
Open Access.
This article is licensed under the terms of the Creative Commons Attribution 3.0 IGO License, which permits use, sharing, adaptation, distribution and reproduction in any medium or format, as long as you give appropriate credit to the WHO, provide a link to the Creative Commons licence and indicate if changes were made.
The use of the WHO's name, and the use of the WHO's logo, shall be subject to a separate written licence agreement between the WHO and the user and is not authorized as part of this CC-IGO licence. Note that the link provided above includes additional terms and conditions of the licence.
The images or other third party material in this article are included in the article's Creative Commons licence, unless indicated otherwise in a credit line to the material. If material is not included in the article's Creative Commons licence and your intended use is not permitted by statutory regulation or exceeds the permitted use, you will need to obtain permission directly from the copyright holder.