22.02.2018 | Original Paper | Ausgabe 3/2018 Open Access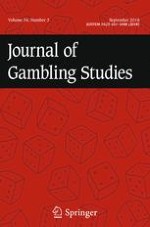 Problem Gambling and Delinquent Behaviours Among Adolescents: A Scoping Review
Zeitschrift:
Autoren:

David T. Kryszajtys, Tara E. Hahmann, Andrée Schuler, Sarah Hamilton-Wright, Carolyn P. Ziegler, Flora I. Matheson
Wichtige Hinweise
Electronic supplementary material
Introduction
Adolescent Problem Gambling: A Public Health Issue
Adolescent gambling has emerged as a serious public health concern as the use of emerging gambling technologies (e.g., free social media gambling) increase the likelihood that adolescents—under 19 years of age—will gamble for money (Gainsbury et al.
2016
; Meerkamper
2010
). Parents and teachers are unaware of and deprioritize gambling as a public health issue for adolescents in comparison to other risky behaviours (Campbell et al.
2011
; Derevensky
2012
; Derevensky et al.
2014
). However, gambling is associated with multiple harms among adolescents that include legal harms, harms to family, finances, employment, and mental and physical health (Shaffer and Korn
2002
; Lambie and Randell
2013
). Along with these harms, one of the more serious and less studied harms of adolescent gambling, the development of delinquent behaviours, can lead to involvement with the criminal justice system (Magoon et al.
2005
). These harms make problem gambling a key area of concern for the public health community (Shaffer and Korn
2002
). Improved understanding of the relationship between problem gambling and delinquent behaviours among adolescents may reduce the public health harms associated with them.
Prevalence of Problem Gambling Among Adolescents
Available systematic reviews of the prevalence of problem gambling among adolescents indicate that rates across studies and countries range from 0.2 to 12.3% (Calado et al.
2016
; Volberg et al.
2010
). Rates of adolescent at-risk gambling range from 10 to 15%, and rates of adolescent engagement in some form of gambling activity range from 60 to 80% (Calado et al.
2016
; Volberg et al.
2010
). These differences in prevalence may relate to inconsistencies in screening and measurement of adolescent gambling across studies and countries (Derevensky et al.
2003
; Shaffer and Korn
2002
). There is agreement among researchers, however, that adolescent rates of gambling participation and problematic gambling exceed those of adults (Gupta and Derevensky
2000
; Molinaro et al.
2014
; Volberg et al.
2010
). Considering the high rates of gambling in this population, adolescence marks a critical period for gambling prevention and intervention (Magoon et al.
2005
).
Problem Gambling and Delinquent Behaviours
In the most recent review on the topic to date, Magoon et al. (
2005
) reported on criminal acts associated with gambling. They reported on two studies that found higher rates of problem and pathological gambling among incarcerated (21%) in comparison to non-incarcerated adolescents, although as suggested by other research problem gambling can precede delinquent behaviours. For example, adolescents may steal to fund their gambling activities. They also found studies reporting associations between gambling and truancy, selling drugs, shoplifting, stealing money, and working for 'bookmakers'. Overall, their research found that adolescents who gamble are more likely to participate in or have a history of committing delinquent acts, especially if they gamble at a problem or pathological level. Furthermore, the frequency and amount of money spent on gambling activities is a significant predictor of delinquent activities. Several gaps in the knowledge on this topic were identified: the influence of the parent/child interaction on development of problem gambling and delinquent behaviours, the types of gambling associated with delinquency, and how theft within and outside of the home is related to the progression of both problem gambling and delinquent behaviours.
The documented link between problem gambling and delinquent behaviours among adolescents warrants a review of the current state of the literature to see how research has progressed and where gaps remain. The main objective of this scoping review was to identify the available evidence on the association between adolescent delinquent behaviour and problem gambling. A secondary objective is to identify measures of problem gambling and delinquent behaviours in the literature.
Methods
The recommendations of Arksey and O'Malley (
2005
) form the basis of the methodology for this scoping review. They suggest a five-stage approach: (1) identify the research question, (2) identify relevant studies, (3) select relevant studies, (4) chart the data, (5) collate, summarize and report the results.
Search Strategy
In June 2016, the following databases were searched: OVID PsycINFO, Ovid MEDLINE, CINAHL, Criminal Justice Abstracts, Child Development and Adolescent Studies; Social Sciences Abstracts, Applied Social Sciences Index and Abstracts (ASSIA), International Bibliography of the Social Sciences (IBSS), ProQuest Dissertations and Theses Global, Social Services Abstracts, Sociological Abstracts, Web of Science: Social Science Citation Index. We selected these databases to ensure interdisciplinary coverage, including social sciences, criminal justice, child and adolescent studies, medicine, allied health professions, nursing, and psychology. The search terms included a combination of medical subject headings and keywords for the concepts of gambling, youth, and delinquency, combined with the Boolean operator "AND". The search strategy was developed by an information specialist with input from the project team (please see Appendix A for the full MEDLINE strategy). We included English language scholarly articles published between January 1st, 2000 and June 16th, 2016.
Study Selection
Our research objectives and our initial review of the literature informed the inclusion and exclusion criteria for this scoping review. Studies were accepted if the sample included adolescents under the age of 19 and if the study examined the relationship between problem gambling and delinquent behaviours. Only studies using a validated diagnostic tool or screening instrument for problem or pathological gambling were included. For the purposes of this review, we defined delinquent behaviours as those that result in or are likely to result in direct physical or financial harm to others and are illegal. We excluded substance use, truancy, and underage drinking to focus our definition of delinquency that would otherwise encompass a broad spectrum of behaviours (Cox and Allen
2007
). Examples of delinquent behaviours within this definition include violence, theft, dealing drugs, carrying weapons and driving in excess of the speed limit. Conduct disorder is also included, as it includes delinquent behaviours within its definition—a persistent display of serious antisocial actions that are extreme for the child's developmental level and impinge on the rights of others (American Psychiatric Association
2013
). Study designs that meet the inclusion criteria include randomized controlled trials, observational studies (cohort, cross-sectional, case–control), descriptive, qualitative, and mixed methods studies. Study selection followed a multi-step process. First, three team members independently reviewed ten studies to pilot eligibility criteria for the abstract and title review. The same three team members refined the inclusion/exclusion criteria based on the pilot and then independently reviewed titles and abstracts of all studies identified through the search strategy. Figure
1
, the study selection flow chart, shows that 1795 studies were identified through the literature search with duplicates removed. There was an agreement on inclusion and exclusion for 94% of the studies at this stage. When necessary, a fourth team member helped resolve conflicts. Fifty-four studies were included in the full-text review. To pilot the full-text review, two team members reviewed five studies. These team members independently reviewed fifty-four full-text studies for eligibility. We accepted nine articles for final review and data extraction with a 92.6% agreement rate between two reviewers, drawing on a third team member to help resolve conflicts.
×
Data Extraction
For eligible publications, two team members independently extracted information using a data extraction tool the team developed, piloted, and modified. Extraction items included publication details (authors and dates), theory, research objectives, research design, sample demographics, information on tools used to measure problem gambling and delinquency measures, and findings on the relationship between problem gambling and delinquency (both significant and non-significant). We report odds when available; otherwise, group differences in proportions, means, or correlations are reported. A third team member verified that the data that was extracted accurately reflected how it was reported in the eligible publications.
Results
Discussion
The secondary objective of this review was to identify how problem gambling and delinquent behaviours are defined in the literature. Measures of problem gambling were inconsistent across studies. The most widely used measure was the full version of the South Oaks Gambling Screen. Measures of delinquent behaviour were similarly inconsistent, and derived through self-report. The inconsistency in measurement makes it difficult to fully understand the nature of the relationship between both problem gambling and delinquency.
Conclusion
The review has both limitations and strengths. As we included papers from January 1, 2000 to June 16, 2015, we began this review by summarizing the narrative synthesis of the literature by Magoon et al. (
2005
), who examined adolescent problem gambling and delinquent behaviours prior to 2000. We excluded truancy, substance abuse, underage drinking, and other criminal behaviours that do not cause direct harm to others. Doing so allowed us to focus our definition of delinquency that would otherwise include a broad spectrum of behaviours. Future research should consider an examination of other delinquent behaviours, including truancy and substance use, in relation to problem gambling.
A key finding of this review is that problem gambling is associated with both violent and non-violent behaviours and these associations are robust. This finding shifts our understanding beyond the explanation that delinquency associated with problem gambling is merely financially motivated by gambling losses. Problem gambling and delinquency may have shared risk and protective factors that reflect a syndrome of risky behaviour. As such, it will be important to consider and gather evidence on the effectiveness of more holistic approaches to treatment and prevention that target multiple risky behaviours and are sensitive to the social-structural context in which youth are situated, including socioeconomic status, gender, and race/ethnicity.
Compliance with Ethical Statements
Conflict of interest
The authors declare that they have no conflict of interest.
Ethical Statement
This study did not involve human research participants.
Open Access
This article is distributed under the terms of the Creative Commons Attribution 4.0 International License (
http://​creativecommons.​org/​licenses/​by/​4.​0/​
), which permits unrestricted use, distribution, and reproduction in any medium, provided you give appropriate credit to the original author(s) and the source, provide a link to the Creative Commons license, and indicate if changes were made.