01.12.2018 | Research | Ausgabe 1/2018 Open Access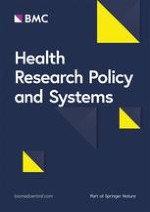 Problems maintaining collaborative approaches with excluded populations in a randomised control trial: lessons learned implementing Housing First in France
Zeitschrift:
Autoren:

Pauline Rhenter, Aurélie Tinland, Julien Grard, Christian Laval, Jean Mantovani, Delphine Moreau, Benjamin Vidaud, Tim Greacen, Pascal Auquier, Vincent Girard
Abstract
Background
In 2006, a local collective combating homelessness set up an 'experimental squat' in an abandoned building in Marseille, France's second largest city. They envisioned the squat as an alternative to conventional health and social services for individuals experiencing long-term homelessness and severe psychiatric disorders. Building on what they learned from the squat, some then joined a larger coalition that succeeded in convincing national government decision-makers to develop a scientific, intervention-based programme based on the Housing First model. This article analyses the political process through which social movement activism gave way to support for a state-funded programme for homeless people with mental disorders.
Methods
A qualitative study of this political process was conducted between 2006 and 2014, using a hybrid theoretical perspective that combines attention to both top-down and bottom-up actions with a modified Advocacy Coalition Framework. In addition to document analysis of published and grey literature linked to the policy process, researchers drew on participant observation and observant participation of the political process. Data analysis consisted primarily of a thematic analysis of field-notes and semi-structured interviews with 65 relevant actors.
Results
A coalition of local activists, state officials and national service providers transformed knowledge about a local innovation (an experimental therapeutic squat) into the rationale for a national, scientifically based project consisting of a randomised controlled trial of four state-supported Housing First sites, costing several million euros. The coalition's strategy was two-pronged, namely to defend a social cause (the right to housing) and to promote a scientifically validated means of realising positive outcomes (housing tenure) and cost-effectiveness (reduced hospitalisation costs).
Conclusion
Activists' self-agency, especially that of making themselves audible to public authorities, was enhanced by the coalition's ability to seize 'windows of opportunities' to their advantage. However, in contrast to the United States and Canadian Housing First contexts, which are driven by implementation science and related approaches, it was grassroots activists who promoted a scientific-technical approach among government officials unfamiliar with evidence-based practices in France. The windows of opportunity nevertheless failed to attract participation of those most in need of housing, raising the question of whether and how marginalised and/or subordinate groups can be integrated into collaborative research when a social movement-driven innovation turns into a scientific approach.
Trial registration
The current clinical trial number is
NCT01570712
. Registered July 17, 2011. First patient enrolled August 18, 2011.