19.02.2015 | Original Article | Ausgabe 3/2016 Open Access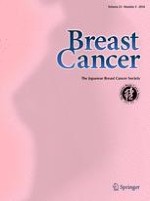 Production and characterization of a novel long-acting Herceptin-targeted nanobubble contrast agent specific for Her-2-positive breast cancers
Zeitschrift:
Autoren:

Qiongchao Jiang, Shaoyun Hao, Xiaoyun Xiao, Jiyi Yao, Bing Ou, Zizhuo Zhao, Fengtao Liu, Xin Pan, Baoming Luo, Hui Zhi
Wichtige Hinweise
Q. Jiang, S. Hao, X. Xiao, and J. Yao contributed equally to this work.
Abstract
Background
There is an unmet need for specific and sensitive imaging techniques to assess the efficacy of breast cancer therapy, particularly Her-2-expressing cancers. Ultrasonic microbubbles are being developed for use as diagnostic and therapeutic tools. However, nanobubbles circulate longer, are smaller, and diffuse into extravascular tissue to specifically bind target molecules. Here, we characterize a novel Herceptin-conjugated nanobubble for use against Her-2-expressing tumors.
Methods
Phospholipid-shelled nanobubbles conjugated with Herceptin (NBs-Her) were fabricated using a thin-film hydration method and characterized in vitro in breast cancer cell lines and in vivo in a mouse model.
Results
The average size of the unconjugated nanobubbles (NBs-Blank) and NBs-Her was 447.1 ± 18.4 and 613.0 ± 25.4 nm, respectively. In cell culture, the NBs-Her adhered to Her-2-positive cells significantly better than to Her-2-negative cells (
p
< 0.05). In vivo, the peak intensity and the half-time to washout of the NBs-Her were significantly greater than those of the NBs-Blank (
p
< 0.05). In addition, contrast-enhanced ultrasound imaging quality was improved through the use of the NBs-Her. The nanobubbles were able to penetrate into tumor tissue to allow extravascular imaging, but did not penetrate normal skeletal muscle.
Conclusions
The Herceptin-conjugated nanobubble had many properties that made it useful for in vivo imaging, including longer circulation time and better tumor selectivity. This platform may be able to provide targeted delivery of therapeutic drugs or genes.