13.06.2020 | Original Research | Ausgabe 8/2020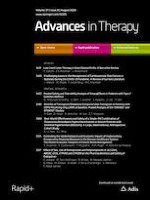 Profile of Cardiovascular Disease Patients Who are Diagnosed with COPD in a Smoking-Cessation Unit
Zeitschrift:
Autoren:

Juan A. Riesco, María Hidalgo, David Chipayo, José J. Gómez, Fernando Zaragozá
Abstract
Introduction
Cardiovascular diseases (CVDs) and chronic obstructive pulmonary disease (COPD) have similar prevalence rates and risk factors, and both frequently occur in the same patient. The primary objective of the study was to evaluate the rate of COPD patients among subjects with some form of CVD referring to a smoking cessation unit. The secondary objective was to analyze the demographic and clinical profile of these subjects and to identify independent factors potentially associated with COPD.
Methods
Observational, prospective study involving 132 patients with smoking habits, and some form of CVD, referring to the smoking cessation unit at the Pulmonology Department of the University Hospital of Cáceres, Spain, between October 2015 and March 2017.
Results
A total of 58 patients (43.9%) were diagnosed with COPD. Main CVDs were: ischemic heart disease (76.5%), chronic heart failure (24.8%), peripheral arterial disease (18.5%), and atrial fibrillation (7.6%). Independent factors were: pack-years (> 30 versus < 30; odds ratio, OR 5.3; 95% CI 1.3–21.4); forced expiratory volume in the first second (OR 0.9; 95% CI 0.9–1.0); chronic heart failure (yes versus no; OR 4.7; 95% CI 1.3–16.4); and modified Medical Research Council (mMRC) dyspnea (2–3 versus 0; OR 18.7; 95% CI 1.9–182.0).
Conclusions
Four of ten patients with some form of CVD also experience COPD. Dyspnea, airflow limitation, smoking habits, and chronic heart failure were significant factors associated with COPD in patients with CVD. Smoking cessation units are useful to improve the diagnosis of COPD in these patients. Further prospective studies with a greater cohort of patients are required to corroborate the present results and to enhance the knowledge of the clinical profile of these patients.