09.08.2015 | Original Article | Ausgabe 1/2016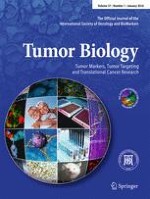 Prognostic analysis of primary mucin-producing adenocarcinoma of the lung: a comprehensive retrospective study
Zeitschrift:
Autoren:

Yang Qu, Dan Zhao, Jing Mu, Nanying Che, Chen Zhang, Zichen Liu, Dan Su, Lijuan Zhou, Haiqing Zhang, Lixin Wei
Abstract
Although primary mucin-producing adenocarcinoma of the lung is uncommon, each subtype has distinct clinical, pathological, molecular, and prognostic characteristics. This study aimed to determine correlations between clinical and pathological features and genetic phenotypes with the prognosis. We immunohistochemically examined the protein levels of thyroid transcription factor 1 (
TTF-1
),
Napsin A
, and anaplastic lymphoma kinase (
ALK
) and genetically examined epidermal growth factor receptor (
EGFR
) and
KRAS
mutations in these mucin-producing tumors. A total of 75 cases of mucin-producing adenocarcinoma of the lung were examined.
ALK
protein positivity was 33.3 % (25/75), and primarily occurred in solid predominant with mucin production subtype (SA).
KRAS
mutations occurred in 22.7 % (17/75) of patients, predominantly in invasive mucinous adenocarcinoma (IMA). Positive
TTF-1
and
Napsin A
expression was more common in SA, while they were both negative in IMA. The 1-, 3-, and 5-year progression-free survival rates of mucin-producing lung adenocarcinoma were 85, 64, and 38 %, respectively; the overall survival rates were 90, 67, and 50 %, respectively. Larger tumors, advanced stage, and lymph node metastasis were associated with poor prognosis. Mucinous minimally invasive adenocarcinoma (m-MIA) had the best prognosis, followed by IMA, SA, and acinar or papillary predominant adenocarcinoma with mucin production (A/P).
KRAS
mutations were an independent positive prognostic factor for postoperative progress.