01.12.2017 | Research article | Ausgabe 1/2017 Open Access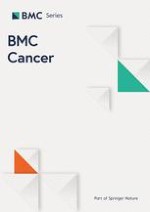 Prognostic factors and outcome of Liposarcoma patients: a retrospective evaluation over 15 years
Zeitschrift:
Autoren:

Carolin Knebel, Ulrich Lenze, Florian Pohlig, Florian Lenze, Norbert Harrasser, Christian Suren, Jonathan Breitenbach, Hans Rechl, Rüdiger von Eisenhart-Rothe, Heinrich M. L. Mühlhofer
Background
Soft tissue sarcomas are rare entities with over 50 histological subtypes. The annual incidence of soft tissue sarcomas is slightly higher than bone sarcoma, but at approximately 2–5 per 100,000 per year, it remains a rare disease [
1
,
2
]. In the U.S., nearly 5000 patients die from this disease per year; however, approximately 12,000 patients will be diagnosed annually [
2
]. Treatments for soft tissue sarcomas depend on the histological subtype and vary from primary surgical resection to (neo-)adjuvant radiation and/or (neo-)adjuvant cytotoxic chemotherapy with different agents. Diagnostic assessment includes the clinical history and examination, proper imaging and tissue biopsy depicting the crucial step in the diagnostic cascade to establish a histological diagnosis for the therapeutic strategy [
3
,
4
]. Among the wide variety of soft tissue sarcomas, liposarcoma (LS) is the most common neoplasm in this group. The WHO describes LS as a complex neoplasm as well as a heterogeneous group of different subtypes, such as atypical lipomatous tumour, well-differentiated LS, dedifferentiated LS, myxoid LS and pleomorphic LS [
5
]. However, depending on the subtype, different treatment strategies are used. Surgical resection with histologically negative margins is the gold standard in oncologic therapy; however, depending on the subtype, the location, status of resection and metastases, other therapy options are used. Few studies evaluating these determining factors of LS consider the histological subtypes [
6
–
10
].
Therefore, the aim of this study was to determine the prognostic factors influencing the survival of patients affected by LS with consideration for the grading, histological subtype, state of resection, size, location, metastases and recrudescence in a retrospective, single-centre analysis over 15 years.
Methods
The approval of the institutional review board and written consent from each subject prior to inclusion were obtained before initiating the study (Ethikkommission der Medizinischen Fakultät, Technische Universität München). We retrospectively reviewed our institution's database for patients who underwent treatment for the diagnosis of LS from October 1997 to November 2012. We identified 133 patients (male/female = 67/66) with a median age of 55.1 years (14–86 years) at the time of LS diagnosis. The distribution of subtypes included in this study is illustrated in Table
1
. Of the 133 patients, 130 (130 tumours) were included in the present study (3 patients with 3 tumours were excluded due to the lack of a clear histological definition). A cohort of 101 was primarily treated at our institution; 32 had at least one operation at another hospital, and 2 patients had developed metastases at the time of diagnosis. We recorded the age (diagnosis), gender (male/female), histologic subtype (atypical/well-differentiated LS, dedifferentiated LS, myxoid LS and pleomorphic LS), grading (G1, G2, and G3), TNM classification, localization, biopsy technique, tumour margins (R0: negative/clean margins; R1: positive/involved margins (microscopic); R2: positive/involved margins (macroscopic), Rx: the presence of residual tumour cannot be assessed), number of operations, complications, radiation (adjuvant, neoadjuvant, and intraoperative) and dose, chemotherapy, survival, recrudescence, metastases (time of occurrence/localization), and follow-up (months from operation). Survivorship analysis was performed using the Kaplan-Meier survivorship method. Prognostic factors and their influence on the mortality were determined with the log-rank test. All data are reported as the mean, standard deviation, and percentage, where applicable. Statistical analysis was performed using SPSS 2.0 (IBM, Armonk, NY, USA).
Table 1
Histological subtype
| Histological subtype | Number of patients |
| --- | --- |
| Atypical lipomatous tumour | 56 |
| Dedifferentiated liposarcoma | 21 |
| Myxoid liposarcoma | 40 |
| Pleomorphic liposarcoma | 12 |
| Mixed-type liposarcoma | 1 |
| | Total: 130 patients |
Results
Discussion
In terms of the tumour burden, patients with a tumour diameter less than 5 cm had a prolonged overall survival compared to those with a diameter greater than 5 cm. The survival rates were 80% and 67.3% for patients with a tumour diameter smaller and greater than 5 cm, respectively. Because only 5 patients with a tumour size smaller than 5 cm were included in the present study (versus 111 patients with a size >5 cm), a significant difference between the overall survival rates was not detectable.
This study has several limitations that merit discussion. First, the retrospective study design is subject to recall and selection bias. The number of patients in the groups sometimes differed, making comparison very difficult. Nevertheless, due to the rare incidence of this tumour, our series is comparable to previously published studies. Second, this study lacks a control group. Therefore, we cannot directly compare the treatment results with other types of regimens. Third, a minimum follow-up period of 5 years was not possible for all patients. This might influence the definitive evaluation of the outcomes for this tumour type. Studies with longer-term follow-up are necessary because the survival rates are easily underestimated in a shorter time period.
Conclusion
Grading, the liposarcoma subtype, negative margins after surgery, metastases and tumour size are independently associated with disease-specific survival, and patients with local recurrence had lower survival rates. We hope our investigation may facilitate further prospective study and clinical decision-making in liposarcoma.
Acknowledgements
None.
Funding
This study was partially funded (payment of English language editing service) by the Wilhelm-Sander Foundation (Fördernummer: 2009.905.2), which is a charitable, non-profit foundation whose purpose is to promote cancer research.
Availability of data and materials
The raw data can be requested from the corresponding author.
Authors' contributions
CK, JB, and FL performed patient recruitment and clinical investigation. UL, HR, FP, FL, NH, RvER, CS, and HM conceived of the study, participated in its design and coordination and helped draft the manuscript. All authors read and approved the final manuscript.
Competing interests
The authors declare that they have no financial or non-financial competing interests.
Consent for publication
Not applicable.
Ethics approval and consent to participate
The Institutional Review Board (IRB) at the Klinikum rechts der Isar approved the study. Each author certifies that all investigations were conducted in conformity with the ethical principles. Written informed consent was obtained from all patients included in the study.
Publisher's Note
Springer Nature remains neutral with regard to jurisdictional claims in published maps and institutional affiliations.
Open Access
This article is distributed under the terms of the Creative Commons Attribution 4.0 International License (
http://​creativecommons.​org/​licenses/​by/​4.​0/​
), which permits unrestricted use, distribution, and reproduction in any medium, provided you give appropriate credit to the original author(s) and the source, provide a link to the Creative Commons license, and indicate if changes were made. The Creative Commons Public Domain Dedication waiver (
http://​creativecommons.​org/​publicdomain/​zero/​1.​0/​
) applies to the data made available in this article, unless otherwise stated.