29.04.2019 | Rhinology | Ausgabe 8/2019 Open Access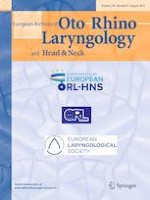 Prognostic factors for outcome after septoplasty in 888 patients from the Swedish National Septoplasty Register
Zeitschrift:
Autoren:

Lars Pedersen, L. Schiöler, S. Finjan, Å. Davidsson, O. Sunnergren, K. Holmberg, C. Ahlström Emanuelsson, J. Hellgren
Wichtige Hinweise
Publisher's Note
Springer Nature remains neutral with regard to jurisdictional claims in published maps and institutional affiliations.
Abstract
Background
The aim of this study was to identify predictors of outcome after septoplasty in 888 patients from the Swedish National Septoplasty Register.
Methodology
This is an observational register study analysing data from patients undergoing septoplasty in Sweden between 2015 and 2016. The patients reported severity of nasal obstruction (mild, moderate, severe) pre- and again 12 months postoperatively (none, mild, moderate, severe), unplanned visits within 30 days after surgery. The examining doctor reported co-morbidities such as allergic rhinitis and snoring. The primary end-point was one level improvement of the nasal obstruction 12 months after surgery.
Results
Nasal obstruction had improved in 63% 12 months after surgery. Twelve months after surgery, 81% with severe nasal obstruction and 31% with mild nasal obstruction before surgery had improved. Only 56% reported that the results of the surgery were as they had expected. Higher patient age at surgery, no unplanned visits within 1 month of surgery and activity limitation before surgery were associated with improvements in nasal breathing in the logistic regression model.
Conclusion
Septoplasty should be offered to patients with severe nasal obstruction and surgery should be avoided in mild nasal obstruction confirmed by both an improvement in nasal obstruction and patient expectations in this study.