01.01.2016 | Original Article | Ausgabe 1/2016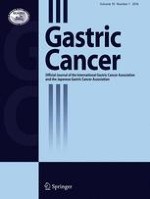 Prognostic impact of HER2, EGFR, and c-MET status on overall survival of advanced gastric cancer patients
Zeitschrift:
Autoren:

Nozomu Fuse, Yasutoshi Kuboki, Takeshi Kuwata, Tomohiro Nishina, Shigenori Kadowaki, Eiji Shinozaki, Nozomu Machida, Satoshi Yuki, Akira Ooki, Shinya Kajiura, Tetsuo Kimura, Takeharu Yamanaka, Kohei Shitara, Akiko Kawano Nagatsuma, Takayuki Yoshino, Atsushi Ochiai, Atsushi Ohtsu
Wichtige Hinweise
Electronic supplementary material
The online version of this article (doi:
10.​1007/​s10120-015-0471-6
) contains supplementary material, which is available to authorized users.
Abstract
Background
This study was conducted to investigate whether human epidermal growth factor receptor 2 (HER2) status, epidermal growth factor receptor (EGFR) status, and c-MET status are independent prognostic factors for advanced gastric cancer patients who received standard chemotherapy.
Method
Unresectable or recurrent gastric or gastroesophageal junction cancer patients with histologically confirmed adenocarcinoma treated with S-1 plus cisplatin as first-line chemotherapy were eligible. Formalin-fixed paraffin-embedded tumor samples were examined for HER2, EGFR, and c-MET status using immunohistochemistry (IHC). Additionally, gene amplification was examined using fluorescent in situ hybridization (FISH) for HER2. Positivity was defined as an IHC score of 3+ or an IHC score of 2+/FISH positive for HER2, and an IHC score of 2+ or 3+ for both EGFR and c-MET.
Results
Of the 293 patients from nine institutions, 43 (15 %) were HER2 positive, 79 (27 %) were EGFR positive, and 120 (41 %) were c-MET positive. Ten patients (3 %) showed positive co-expression of HER2, EGFR, and c-MET. After a median follow-up time of 58.4 months with 280 deaths, there was no significant difference in overall survival (OS) in terms of HER2 and EGFR status. However, there was a significant difference in OS between c-MET-positive and c-MET-negative patients [median, 11.9 months vs 14.2 months; hazard ratio, 1.31 (95 % confidence interval, 1.03–1.67); log-rank
P
= 0.024]. Multivariate analysis also showed that c-MET positivity was still a prognostic factor for OS [hazard ratio, 1.30 (95 % confidence interval, 1.02–1.67);
P
= 0.037].
Conclusions
The study suggested that c-MET-positive status had poor prognostic value. These data could be used as the basis for future clinical trials for targeting agents for advanced gastric cancer patients.