08.03.2019 | Original Article | Ausgabe 12/2019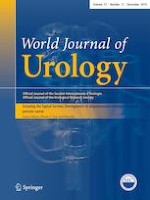 Prognostic implications of prostatic urethral involvement in non-muscle-invasive bladder cancer
Zeitschrift:
Autoren:

Aaron Brant, Marcus Daniels, Meera R. Chappidi, Gregory A. Joice, Nikolai A. Sopko, Andres Matoso, Trinity J. Bivalacqua, Max Kates
Wichtige Hinweise
Publisher's Note
Springer Nature remains neutral with regard to jurisdictional claims in published maps and institutional affiliations.
Abstract
Purpose
Non-muscle-invasive bladder cancer involving the prostatic urethra is associated with pathologic upstaging and shorter survival. We investigated the survival impact of prostatic urethral involvement in non-muscle-invasive patients who are not upstaged at cystectomy.
Methods
From 2000 to 2016, 177 male patients underwent cystectomy for high-risk non-muscle-invasive bladder cancer and remained pT1, pTis, or pTa, and N0 on final pathology; 63 (35.6%) patients had prostatic urethral involvement and 114 (64.4%) did not. Prostatic involvement was non-invasive (Ta or Tis) in 56 (88.9%) patients and superficially invasive (T1) in 7 (11.1%) patients. No patient had stromal invasion. Log-rank and Cox regression analyses were used to evaluate survival.
Results
Compared to patients without prostatic urethral involvement, patients with involvement were more likely to have received intravesical therapy (84.6% vs. 64.4%,
p
 < 0.01), have multifocal tumor (90.8% vs. 51.7%,
p
 < 0.01), and have positive urethral margins (7.7% vs. 0%,
p
 < 0.01) and ureteral margins (18.5% vs. 5.1%,
p
 < 0.01). Log-rank comparison showed inferior recurrence-free, cancer-specific, and overall survival in patients with prostatic involvement (
p
 = 0.01,
p
 = 0.03,
p
 < 0.01). Patients with prostatic urethral involvement were more likely to experience recurrence in the urinary tract (
p
 < 0.01). On Cox regression, prostatic urethral involvement was an independent predictor of overall mortality (HR = 2.08,
p
 < 0.01).
Conclusions
Prostatic urethral involvement is associated with inferior survival in patients who undergo cystectomy for non-muscle-invasive bladder cancer and remain pT1, pTis, or pTa on final pathology. Prostatic urethral involvement is thus an adverse pathologic feature independent of its association with upstaging.